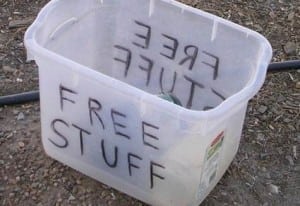 Who doesn't love FREE stuff? Well, I've got more than just "free stuff" to offer. I've actually got some incredibly useful FREE stuff for you!
*New* EXCLUSIVE FOR CHUNK OF CHANGE READERS: Melissa G. Wilson has graciously offered her book of 101 networking tips as a FREE download for a limited time. All copyright and rights of 101 Great Tips for Building Relationships and Opportunities in the Age of the Network are exclusively hers!
Next, is one of Chunk Of Change's amazing checklists, from a recent post about "Ratchet Up Your Reviews TO DO List." It's a super-handy worksheet for making the most of the reviews about your business that appear online. You can download the handy dandy Ratchet Up Your Reviews Checklist PDF Here. Feel free to use it your heart's content: wherever, whenever. (Copyright, schmopyright.) All I ask is that you provide a link to www.ChunkOfChange.com if you can. Thanks!
Another offering of the moment is a book that offers some terrific tips on learning to focus. We're all pulled in a million different directions in our busy lives, so Babauta offers suggestions for creating "everyday zen." He calls the tome "a simplicity manifesto in the age of distraction." You can find his Zen Habits blog here, a link to information about the book here, or a free PDF version of the book "Focus" by Leo Babauta here.
Or, if you're in need of defining your Unique Value Proposition, check out the post  Your UVP Here: Your Cheat Sheet For Filling Out The UVP Worksheet for the cheatsheet recently featured at the 2012 California Womens Conference. Pinpoint exactly what  makes your product or service different in the marketplace to better focus your business, branding, and marketing efforts.
Considering running a Groupon? Feel free to take advantage of this incredibly useful spreadsheet from one of Chunk of Change's most popular posts, GroupOn, GroupOff: Why Your Marketing Money Would Be Better Spent On Skywriting Than On Running A Daily Deals. By entering key numbers, it will help you to ascertain if running a Groupon would actually be beneficial or detrimental to your business, and could save you thousands of dollars.
Finally, increase traffic on your site and your customer base with the handy Chunk of Change SavvySearch Engine Checklist, a must that outlines exactly what you need to do to register your business on popular search engines including Google, Yahoo, and Bing. Get started and get found today, in just 12 easy steps!
Just so ya know, "Dropped Daily" members get the first juicy scoop on all of the new FREE stuff, so sign up today (in the tan box on the right hand side of the page). Don't worry: I hate spam, so I'll never send you any.
Enjoy the FREEbies, folks!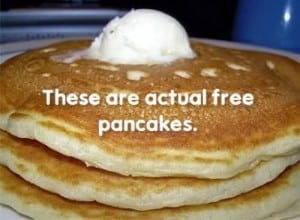 * Pancakes not included.