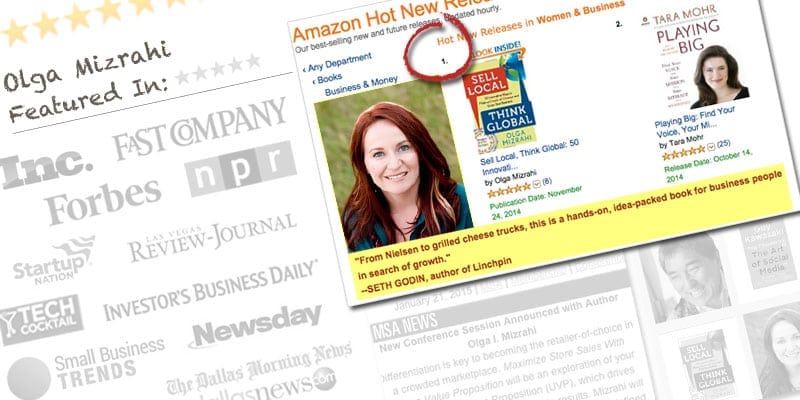 Book a Dynamic Keynote Conference Speaker
AEI Speakers Bureau
300 Western Avenue, Suite 2
Allston, MA 02134
Phone: 617-782-3111
AEISpeakers.com
"We were so excited to have a gig economy and marketing expert at Alpha Chi Omega's 2016 national convention for collegians and alumnae. Olga energized her session attendees by providing interactive tips and to-dos about how to succeed in today's challenging, new, freelance-focused environment. She was one of our top-rated speakers, with attendees stating, 'would love to see more from Olga! Excellent speaker with practical applications'."
See (or Hear) Olga Live and In-Person
Coming Up:
Recent Appearances and Events:
Edmonton, AB, Canada ASAE Executive Leadership
City of Long Beach, CA presents a Gig Economy and Small Business Workshop [sponsored by the Port of Long Beach]
AirBnB Open in Los Angeles
KNX News Radio Small Business Summit, Los Angeles, CA
Museum Store Association Retailers' Conference, Hartford, CT
Santa Barbara Business Expo, Fess Parker Resort, Santa Barbara, CA
City Club Los Angeles, Executive Women's Series, Downtown L.A., CA
Small Business Workshop, courtesy of Suzie Price, 3rd District Councilwoman, Long Beach, CA
Leadership Conference, Private Multinational Corporate Client, Atlanta, GA
Luncheon Speaker, Lakewood Chamber of Commerce, Lakewood, CA
Invitation-Only Book Launch Celebration, Private Home, Long Beach, CA
Public Book Signing & Launch Celebration, Spa Sante at the Fairmont, Newport Beach, CA
#SmallBusinessSaturday Book Signing Event, Gatsby Books, Long Beach, CA
The California Women's Conference, Long Beach, CA
AXO 2017 Southern & Central California/Nevada Province Day, Irvine, CA
AXO 2016 National Convention for Collegians and Alumnae, Orlando, FL
Podcasts and Media Appearances:
"Financial Spectrum," WKXL-AM Talk Radio, Live with Bill Kearney, Concord, NH
"The Frankie Boyer Show," ET Lifestyle Radio Network, National
"Enterprising People,"Live with Kim Bailey Tureaud, KCEP-FM, Las Vegas, NV
"Mastering Your Money," Live with Ed Fulbright, WNCU-FM, Raleigh-Durham, NC
"The Paul Miller Show," WPHM-AM, Port Huron, MI
"Brian Greenberg Live," WNJC-AM Radio, Philadelphia, PA,
Short Speaker Bio:
Olga Mizrahi is the author of Amazon's Hot #1 book "Sell Local. Think Global." She is a national speaker and marketing expert on the gig economy; a local Southern California business owner; a blogger for entrepreneurs and freelancers at ChunkofChange.com; and a small business columnist for The Long Beach Post.
Olga Mizrahi's fresh views on the freelance economy, personal branding, and entrepreneurial unique value proposition have been featured recently in Forbes, Fast Company, Inc. Magazine, and Investor's Business Daily.
Rose Tafoya, who writes for The Huffington Post, asserts that Olga, "brings a spark to every presentation she delivers. Olga has a way of getting her point across in a no-nonsense, clear, precise way. She has you thinking outside the box and motivates you to see the potential in every situation. She never fails to provide relevant information and, because of her clarity … she adds value to any conference or speaking event."