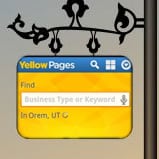 Just as the Yellow Pages does in print, an online directory organizes information by category. Unlike the Yellow Pages, though–which has a standard format of business name, address, and phone number–the information actually displayed in most online directories is not standardized. Some directories feature paid advertising and/or return irrelevant listings.
Regardless of how your own listing actually displays, online directories are of particular interest because they will all send your information to the three major search engines…and numerous local and mobile search partners.
Not only will you want to make sure you're listed in the first place (to achieve higher search rankings), you'll want to verify that your business information is correct.
On many sites, your basic business information may already be listed, in which case…
You'll need to "claim" your listing. If you search for your business, a link to claim your listing should be on the results page, usually toward the bottom of the page.
Be very careful to list your information correctly. It is generally pretty easy to get listed, but can be quite difficult to change your business details.
As of this blog post, there are many places to get listed for free—as well as a growing number of websites that call themselves "directories"—and the landscape is rapidly changing. You should add your business to the most popular free internet yellow pages (IYPs):
1. SuperPages (direct link to claim your listing on Super Pages a.k.a. Super Media)
2. BizJournals (direct link to create an account on Biz Journals a.k.a. The Business Journals)
3. MagicYellow (direct link to add your business to Magic Yellow a.k.a. Online Yellow Pages)
If you do a search for additional IYPs, you may find yourself confounded by hundreds of results. The truth is that many of these are powered by primary data sources that are not technically IYPs, but rather, the data providers behind them. As such, you should add your business to the following data sources as well:
1. InfoGroup (direct link to check your listing on Info Group Express Update)
2. Localeze (direct link to add or modify your business listing on Localeze)
Don't discredit the power of these two. Even behemoths like Yelp and Facebook Places pull info from these sources.