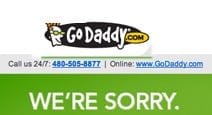 As some of you know, chunkofchange.com is a labor of love for me. My day job as owner at Long Beach based web and marketing firm ohso! design pays the bills and the wonderful team I work with. Although we do not utilize Go Daddy, millions of small businesses, including many of our clients, vendors and chunkofchange.com readers do…
GoDaddy Outage Credit
I hope that each and every small business takes CEO Scott Wagner up on its offer of a one month credit in light of the GoDaddy outage this week that effected so many websites and email. My client sent me what she got from go daddy and it's pictured below. It reads, "your account will be credited for the value of 1 month of service for each plan that has at least one active or published site (Web Hosting, Quick Shopping Cart®, Website Builder, Email, etc.)."
If you were effected, even if it was just that you have a domain with them, I encourage you to call and get a credit. The offer below is just for the hosting accounts, but plenty of folks that just have the domain registration and are hosted elsewhere were down. IMHO They should offer any of you domain owners compensation as well. If you'd like to call and haggle, the number in the email is 480-505-8877.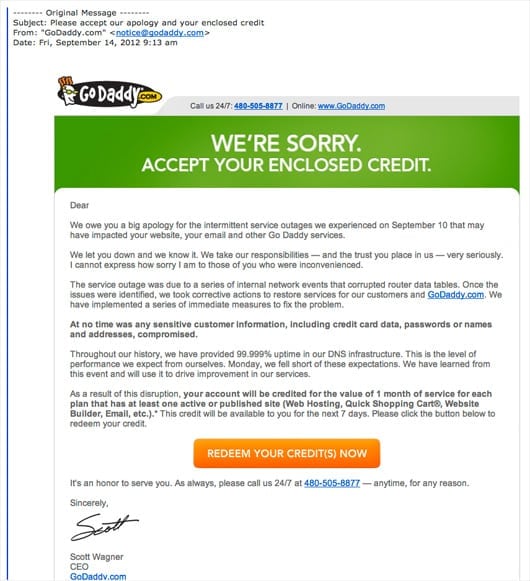 How did the godaddy.com outage effect your business?