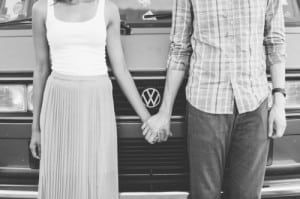 Who's type are you? What type of person is the most likely to choose your product, you handsome devil, you? And, critically, why will they choose your product?
Know your target market. This credo is at the very top of my list of small business success tips. Why? Because it's darn near impossible to formulate a successful "creative" marketing plan unless you have a firm grasp on the identity of your target customer, the more detailed, the better. And by "creative marketing" we mean …
… code for budget conscious, the charming attribute of every small business owner I know.
At this point, you may be rolling your eyes in a response to another cliched sounding piece of marketing advice, but stay with me, man! I have a super fantastic retro cool creative example for you, straight from the shores of Laguna Beach, CA!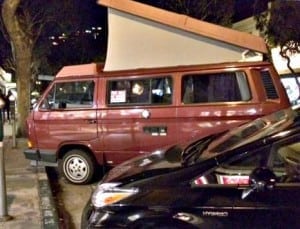 While walking along the main drag of Laguna Beach on a balmy fall evening, I spied an old-school, but brand-new-looking VW Vanagon parked along Pacific Coast Highway. It's not the "For Sale" sign that got my attention, it was the windows and van doors that stood wide open, exactly as if in a show room. This allowed for closer inspection of the immaculately restored interior, inviting folks to sit inside and imagine themselves in the van, surprisingly without any supervision.  It piqued my interest as a very unusual and effective method of catching a potential customer's attention, specifically the type of person that was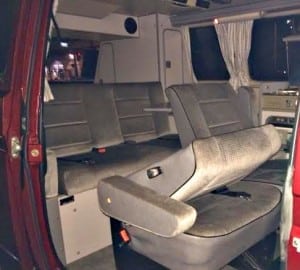 interested in a large souvenir to remember a fond time in Laguna Beach.
I recently spoke with the seller, Jack Hinkey, who happened to be cruising in his newest restoration at Fisherman's Wharf in Monterey, CA. Hinkey has found a unique niche in seeking out, meticulously restoring, then selling a very specific range of low-mileage, top condition VW camper vans. Though he has successfully advertised on select online marketplaces, his primary and most effective sales tool consists of driving his restored vehicles during his day-to-day activities and parking at strategic locations frequented by his target audience. Hinkey easily surmised these locales – as they were often places he naturally visited himself, such as outdoor gear and clothing store REI, where he almost accidentally sold a camper while shopping.
So who fits into Hinkey's target market for beautifully restored VW Westfalia bus campers in fantastic mechanical condition?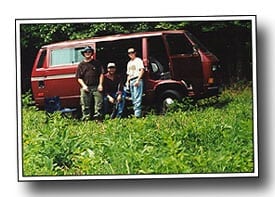 A. A visiting family of five struck by the promise of adventure presented by the opportunity for an impromptu road-tripping back home to Pennsylvania.
B. An acquaintance who called from Canada after totaling their own car because they "just had to have" Hinkey's most recent restoration.
C. Three different people in a bank parking lot, after spotting the For Sale sign still in the window of a just-sold VW being driven home by a client's teenage son.
D. All of the above.
By understanding that the answer is D, all of the above, Hinkey has been able to strategically seek out his audience in places such as Laguna Beach, REI, Fisherman's Wharf in Monterey, and the Newport Pier most likely to appeal to such Gen X-led families and upwardly mobile hipsters.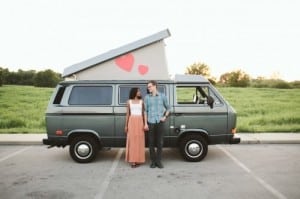 As a 1986-1991 VW Vanagon enthusiast (and holistic chiropractor) SoCal native Hinkey in many ways embodies his target demographic. Interestingly, his clientele is not made up of the aging hippies or flower-adorned nouveau bohemians I had envisioned. Rather, as Hinkey explained, his customers tend to be established professionals who wish to tap into the lifestyle these VWs represent. B-I-N-G-O! Hinkey hit upon the fundamental meaning of our call to know your market, by looking beyond a simplistic categorization of his customer demographic, but understanding that the main point of commonality for his very different customers is the bigger picture emotional connection, what owning one of these Vanagons means to the prospective buyer.
The revived retro fabulousness of the self-contained campers is a prerequisite, not the entire story. In order to get noticed, they must be pristine and mechanically perfect. This provides a ride that, as Hinkey describes, makes your "hair stand on end." Step one, check! Now, we get to the meat of it. What appeals to Hinkey's clients in equal, if not higher, measure is the lifestyle the vehicle represents, one where a busy family can enjoy the lost art of the road trip, or friends can hit the road on a moment's notice to see where the wind will blow them. With Hinkey's showroom quality restoration work, buyers get the best of both worlds, a vehicle that provides a high-end gateway to a comfortable getaway.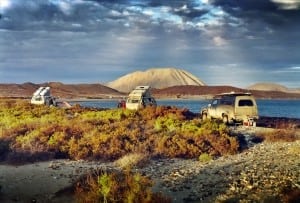 Most of Hinkey's customers have approached him as he has been traveling about in his most recently restored Vanagon — living the lifestyle the vehicles embody. By truly understanding his audience and providing a glimpse of not just the vehicle but the freedom it facilitates, Hinkey has sold nine hand-restored VWs in the past twelve months, for full asking price.
If you find yourself waxing nostalgic and itching to roam to roadways, contact Jack Hinkey  to inquire about his latest classic Volkswagen camper revamp.