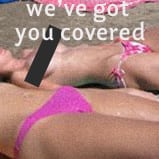 Hey! I've got dozens of tips ready to roll, and they'll be up every Tuesday, with on-going conversations in between. As they're posted, the topics will no longer be nude.
In the meantime, be sure to type your email address in the "dropped daily" box (on the upper right hand side of your window). That way, you'll see every new post as soon as it goes live!
I'd love to hear from you, too. Take a couple of seconds and type in a question, comment, or idea in the "cash in" box (on the middle right hand side of your window). I really do read every single thing that comes in.
One last thing, Feedback and Follow-up Fridays are a great upcoming TGIF activity that you won't want to miss. So, stay tuned!