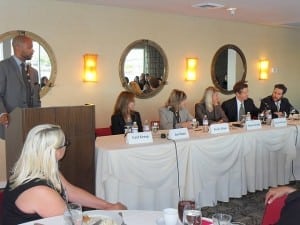 I went to a great event last week, titled "Experience Speaks" presented by the Long Beach Women's Business Council at the beautiful Maya Hotel. A panel of five successful local executives shared their experiences "surviving and thriving during economic crisis."
The three main themes of the evening were, when times are tough…
…resist the urge to downsize.
Don't lay anyone off. Instead, reinvest in your people.
Give your employees the stability that they crave—job security and health insurance.
Genuinely appreciate your team, with your words and your actions.
…take care of your current customers.
Go back to basics, and focus on the things that got you to where you are today.
Nurture your existing relationships and focus on customer service.
Think about what you did to get your clients, and do that again in order to keep them.
…embrace change with open arms.
Change starts with an awareness, and turns into a shift in your perspective.
Whether it is intended as a series of small steps or it comes about in one big swoop as a result of crisis, change is inevitable.
Something is better than nothing; start changing in small ways, every day.
There were quite a few valuable insights and some really poignant stories, including contributions by…
Kevin Peterson, President, P2S Engineering, Inc.
Knowing full well that existing accounts would pull back, Kevin realized that his company needed to expand its reach. In order to do so, PS2 doubled its marketing budget, instead of cutting back. In addition, the company invested in a remodel of its own facilities, taking advantage of the lower costs of utilizing talented people.
Sasha Strauss, Managing Director, Innovation Protocol
In terms of re-assessment, Sasha brought up the idea of "navel gazing." He cited a need to look at the core of your business, re-examine your fundamental principles, and make sure your entire staff is on the same page.
Diana Hendel, CEO, Long Beach Memorial Medical Center and Miller Children's Hospital of Long Beach
According to Diana, take something seemingly small (like getting hospital staff compliant with washing their hands more often) and you'll effect really big change (like significantly reducing hospital-acquired infection).
Becky Blair, Owner, Blair Commercial Real Estate, Inc.
Noting a significant different between the last recession and the current one, Becky said that whereas in the 1990s there were completely vacant buildings, today's commercial spaces are occupied. Although spending conservatively, it's not the private sector that is truly "feeling the pain," but rather, the US government—resulting in drastic cuts in government services and the layoff of government workers.
Jan Maize, Vice President, Maize Group At Morgan Stanley Smith Barney
The painful exit interview of a departing client turned into a huge learning opportunity for Jan. She came to realize that, during a financial shakedown, not every client will stay with you. When that happens, she says, it's time to gather up your courage, figure out what you did wrong, "put on your big girl panties," get back out there, and do it better next time.
Jan also offered the best take-away of the evening, which was (surprisingly) a Mike Tyson quote. "Everyone's got a plan, until they get punched in the face."
Ain't it the truth…especially in business?
All in all, it seems that "surviving and thriving during economic crisis" is really about learning to cope with change and, often, that means just rolling with the punches.