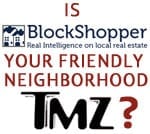 I read an interesting article recently about BlockShopper.com. If you're not familiar with the site, you should definitely check it out. Basically, it lists every address alongside that home's owner and selling price (so far in 20 U.S. markets). All you have to know is somebody's name and you can find out all about their real estate holdings.
BlockShopper uses that information—in conjunction with their own Google research—to create news stories based on everyday people's buying and selling (i.e. Dentist in Van Nuys Buys $1.5M Condo).
That this kind of information is easily found on Google (or Zillow) may be old news, but the fact that the purpose behind it is to sell it as broadcast content is new news. Don't be surprised if…
…your favorite online newspaper has you in the real estate section soon! Your "news" will be sold to that paper by BlockShopper, behind the scenes.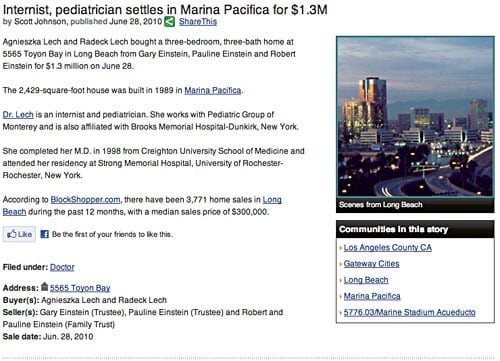 If this has brought up no concern for you, you may be interested in knowing that the gentleman behind BlockShopper, Timothy Landon, has other tie-ins, as well. BlockShopper is just the beginning for content (a.k.a. dirt) about you. Landon is now using the same snoop engine for divorce records, arrests, parking tickets, and any other public information that may prove to be enticing about you.
As a result, other websites have begun using BlockShopper as a news source. This must have been quite a shock for poor Eric Toran to discover after he was arrested in Houston. (To check out a variety of other local "news" stories, do a Google News search for "source:blockshopper".)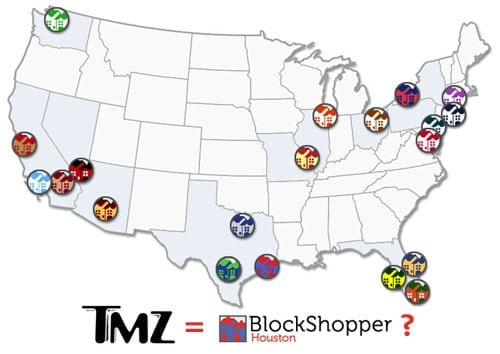 This issue brought up three thoughts for me…and I'm wondering what you think, too:
1.) Does anyone really have a "right" to privacy anymore?
2.) Are the lines blurring between your business brand and your personal brand?
3.) Is there such a thing as true "online reputation management"?