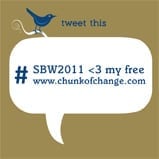 Last week, I was invited to be part of a really cool event in Santa Monica, California. Hosted by Constant Contact, "Get Down To Business" was held in conjunction with national Small Business Week (which was tracked on Twitter at #SBW2011).
The all-day seminar at the Santa Monica Civic Auditorium focused on "Cracking the Code on Social Media for Small Business." Throughout the day, various marketing and web experts (including yours truly), small business owners, and development agencies chimed in with their take on social media.
Not only did Constant Contact put on an A+ event, they did so at no charge to attendees (and also provided validated parking, a complimentary lunch, free massages, raffles, and more).  I'm not sure how they do it where you're from, but in Los Angeles, this kind of generosity is unprecedented. Constant Contact = Class Act.
Their lineup of speakers was pretty great, too, and a lot of pearls of wisdom were delivered throughout the day…
Luckily, my friend Sarah Daniels at Play On Words was busily live tweeting and shared her highlights with me afterward.
For my perspective, the four main themes of the day were…
1.) Learn to love (and create) different kinds of content.
2.) Be everywhere you can be online.
3.) Don' be afraid to ask for help—or money.
4.) Find a balance between your business and your social media efforts (if possible).
My sense is that "cracking the social media code" is all about realizing that you're selling much more than products and services; you're selling relationships. I think that Mister Kiwi hit the nail; on the head when he said, "Marketing is about to get a whole lot harder. You're going to have to really work at it and show you care."