When it comes to your collateral and print materials, you need to make sure that you're telling a consistent story, visually (as I talked about in an earlier post).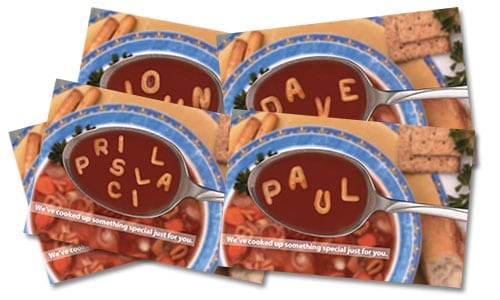 Once you've done that, you'll want to go through a process that makes your pieces stand out and makes them completely different from your competitors. That may be accomplished by your…
choice of materials (adding a velvet cover to your restaurant's menu instead of a laminated cover),
size (printing thin tag-like business cards instead of traditional sized cards)
shape (handing out a square brochure instead of a tri-fold),
feel of the paper (using natural fibers or textured elements instead of plain paper),
color (utilizing unusual hues or unexpected palettes instead of the same old colors),
design (creating eye-catching visuals instead of a staid corporate logo),
photography (employing arresting images instead of stock photography), and
personalization (way beyond junkmail: using "variable data printing" where your piece is personalized right from your DB).
If you go through a local printer (rather than an online printer) you can ask for all sorts of unusual options. Think of all of the choices of greeting cards available out there; there are cards with jewels, tassels, embossed, letter-pressed, textured, velvet, and so on. In the same vein, as everyday consumers become more demanding in their choices, it's becoming more difficult to stand out just doing a tri-fold brochure.
Of course, there has to be a balance between creativity and cost. Even if you can't afford a local printer that caters to your every design whim, there are a host of less expensive online choices that will still give you something a little different.
There are so many different items that you can get printed that you may not have previously thought of as being relevant to your business. For instance, at GreenerPrinter.com, you can create customized stickers, bookmarks, CD sleeves, or door hangers—all in quantities as low as 50.
Ultimately, print cost comes down to quantity (so that your per-piece price is lower). If you're not printing 1,000 pieces, you'll probably need to go with a digital printer. If you are doing a large batch, though, you have more options because the per-piece price isn't cost prohibitive.
Good design doesn't have to cost a mint, but it does cost something. No matter what the cost of your collateral, it's all about perceived value—the value that these pieces successfully communicate to your potential client or customer.
Have you come across a piece lately that has captured your attention? Think about why that caught your eye and what advantages it may have over the pieces you currently have.