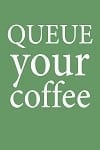 Dear Olga:
In order to be a successful startup, what should I be sure to have on my homepage?
~ Randy M., New E-Tailer, Riverside, CA
Well, it's all about simplicity, focus and a clear call to action.  You must have…
1.      A strong, compelling headline.
Give users the primary benefit of using your product/service.
I'm going to use elements of the fabulous RoseParkRoasters.com as an example: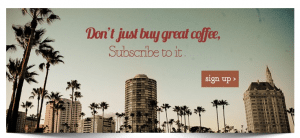 2.      A one-line description about what the product/service is.
Explain why your product/service is unique and why they need it TODAY.
3.      A short description and video of the product, service, or company.
Do not use more than three bullet points and keep videos shorter than 60 seconds. 
4.      One very clear Call To Action (CTA) button. (sign up!)
You can have the CTA in multiple places, but there should be a single action you want users to take.
5.      Something that builds credibility.
Consider including logos of major customers or partners, key testimonials, or media appearances (i.e. "as seen in…"). Also, include a link to a page with bios and photos of the corporate team.
 Coffee Drinker
This is an incredible service, one that should be franchised accross the country. I love having the random pick service. So far the favorite is hands down – or mug up – Kenya AA yara. Keep up the great work. Reviewed by:  Phil LaBarge from Long Beach, Belmont Heights. on 12/17/2012
 Jon R. Long Beach, CA
These guys have hit the tail on the donkey, the nose on the head, the proverbial coffee bulls-eye. 
Quality sourced beans, locally and freshly roasted, all while being delivered to your door on a bike. I've been using them for about 6 months now and I have loved every roast they have delivered. Like others have said, check out the beans in their prime at The Greenhouse on Broadway for a taste, then pick up a bag of your own.
These guys care about the details. From the plants in the soil to the brew in your cup. Seriously, they love what they do and I recommend them to everyone I can.
Result: A whopping 45% increase in Coffee Subscriptions. Rose Park Rosters' Nathan Tourtellotte said that after launching their newly styled homepage, they witnessed more interaction from visitors, more reviews and decidedly more sales.  He credits following the call to action rules, using compelling graphics and clear language that sets them apart. What coffee lover wouldn't want their amazing fresh roasts, delivered locally free via bicycle?
So, I'm curious, what great website homepages do you think follow all of these "rules"?