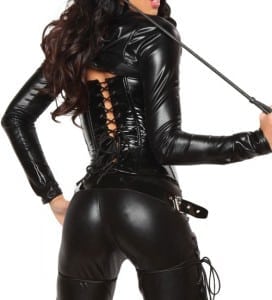 Reader Question: Excuse me for not using my "real" name here, but I have a pretty unique job.  I'm a dominatrix.  Right now, I'm trying to transition my business from working with individuals to working with couples—capitalizing on the "50 Shades of Grey" fad.  How can I stand out in a (surprisingly) competitive arena and make my new strategy a success?
~ Mistress J., Long Beach, CA
Olga's Answer: Well, no matter what you do—dominatrix or dog groomer—it's absolutely essential that you communicate the *unique* part of your business, answering the question: "Why should someone choose you in particular?"
In order to overcome the "noise" of a crowded marketplace, you must be able to get across what makes you unlike everyone else.  (I'm so passionate about this issue, in fact, that I wrote a whole chapter about it in my latest book, "Sell Local, Think Global.")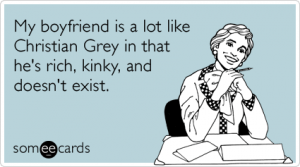 In your case, maybe most of your competitors are known for a specialty, but not the specific clientele they service. You might brand yourself as "discretely taking couples to any shade of grey…together."
As far as I'm concerned, your message is the absolute heart and soul of business strategy. In other words, differentiate or die.
What is UVP, exactly?
While a Value Proposition is usually measured in terms of "benefit minus cost," a Unique Value Proposition communicates the special contribution you provide–in a way that is different from your competitors.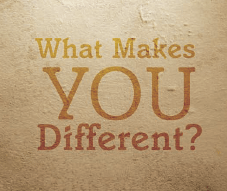 So, how do you figure out what your UVP is?
Well, first of all, as I mentioned in a video about determining your UVP, it's about pinpointing what it is that makes you truly different. In order to do that, start by asking, "Who are we, as a company?"
If you provide a product,
your unique value proposition might consist of:
A high perceived value;
Unique packaging;
Standout design;
Ease of use; or
The ability to fill a need better than competing products.
If you provide a service,
you might be different because of:
Faster response time;
The ability to offer more for less;
A high level of expertise;
The perception that you bring more to the table; or
The ability to time the service offering that you have with a particular need.
If you provide something else,
you still have to tell people what unique value they'll get for their money, which may include:
A "fit" with a particular value system (i.e. it elicits an emotion);
Personal identification with an issue (i.e. it strikes a chord);
Alleviation of an anxiety (i.e. it quells a negative feeling); or
Some sort of tangible incentive (e.g. a gift with donation).
What's the big idea?
By now, you might have a bunch of adjectives, descriptors, and a mishmash of ideas…but, likely, no big, impressive, specific point of difference. That's not only okay, it's encouraged.
Your UVP in 8 Answers
The next step is narrowing it down. I've created a handy little business marketing worksheet that walks you through the process, which you can download here.
DOWNLOAD THE "WHAT MAKES YOU DIFFERENT" WORKSHEET
Regardless of whether you're a product-based, service-oriented, or other kind of business, this simple questionnaire should clarify your true UVP.
There's way more where this came from!