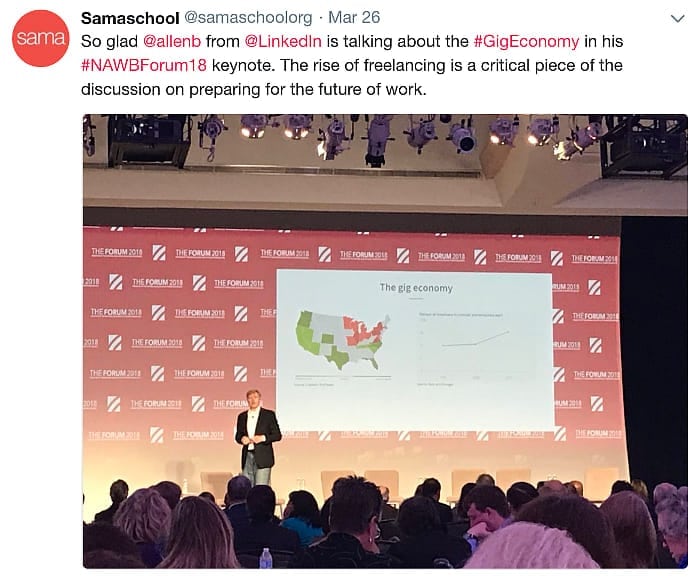 The gig economy has been around forever but it's the biggest that it's ever been today. Gig workers now make up more than 30% of the workforce — and it's only going to get bigger. New platforms and tools take out the challenges of finding work and getting paid.
You might be surprised to find out that very little is currently being done to prepare the current or future workforce. Most people have no idea what the gig economy is or how it's going to impact the future of work. And that's with millions of people hiring gig workers and working in the gig business!

But here's the thing: It's not just creating major opportunity for the working class to make money when, where and how it wants. It's also helping people rise above the poverty line and "upskilling" people. It's happening through Sama School, a nonprofit based in San Francisco (founded by a wonderful womanpreneur) that is teaching low income populations to succeed as independent workers. The organization has thousands of students and partners with cities, training institutions and community organizations to teach people at the poverty line to thrive as gig workers.
Let me just give you an example of how powerful its gig economy programs have been. 50% of their students were at the poverty line when they started their courses. At the end of their five month training, people were earning an extra $9,000 a year. For those earning $24,000 a year, an extra 9k is HUGE.

When it comes to the gig economy, Sama School gets it. They know people need to be skilled in entrepreneurship, personal branding, and sales to make it as independent workers. They get that workers need on the job experience so they connect them to independent work that fits their skills. The courses help students build on this to eventually move into full-time work.
And here's the really cool part. They measure the results of their courses and programs to make sure they're succeeding to train people and turn them into gig workers. They have a ton of data they can use to see how their courses are performing, make improvements and keep helping people.
Sama School knows there are negatives in the gig economy. Workers don't have the same protections as traditional employees. They help their students prepare for it. Independent worker rights is a topic that constantly comes up with the gig economy. It's still a hot mess but there is opportunity. They're not waiting for it to stop being a hot mess at Sama School. They're helping people people take advantage of the opportunity so they don't miss it or jump in too late.
Some cities and schools are starting to wake up about the gig economy but I'll be honest with you. It's not nearly what it needs to be. If you want to see how to prepare people for the future of the workforce, look at Sama School. It's a huge success and its programs are empowering people.
My new book The Gig Is Up: Thrive in the Gig Economy, Where Old Jobs Are Obsolete and Freelancing Is The Future is now available on Amazon. Order your copy today!