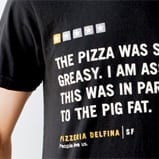 A while back, I read an interesting article in Inc. magazine about a San Francisco restaurant, Pizzeria Delfina, that was responding to their negative Yelp reviews in a particularly creative way.
In the article, co-owner Craig Stoll explained that his waiters and employees wore t-shirts that actually quoted the negative sentiments from reviewers on Yelp. Thus, customers could be served by a waiter with a shirt declaring, "This place sucks." For them, offense seemed to be the best defense. "You can only take so much bashing," Stole told Inc. "We've never been one to say the customer is always right."
Curious to see how that tack had worked out, I called them for an update. Turns out, the campaign has…
…come to an end, according to Kristina, an employee at the Mission branch. Apparently, the response ran its course, but overall, says Kristina, "I think the message was clear and fun, without being confrontational."
Sarah Dunbar, owner of Pretty Penny, a vintage clothing store in Oakland, California had been featured in the article, as well. She explained that she would hit back by directly responding to detractors. "If there's a legitimate complaint, I want to know how we can make it right for them," Dunbar explained to Inc. "I've offered people on Yelp my cell-phone number, my store number; I've given them the hours I'm working and asked them to come in to the store and talk to me."
It appears as if, at first, Dunbar was privately responding to negative reviews. Hard-core Yelpers, however, can be rather defensive and definitely do not appreciate what they perceive to be a secretive attempt to get them to remove their reviews. (Granted, that's usually not what the business owner is asking for, but it's what they hear nonetheless.) In trying to individually address reviewers concerns, Pretty Penny caused a bit of backlash instead.
Allie M. wrote: "A Pretty Penny employee also wrote to me also asking that I change my review, and I think thats pretty messed up. No one should be guilting/intimidating people for writing their opinions on the site, so I just wanted to put it all of this information out there."
Oops!
Recently, though, it seems as through Dunbar has taken the public reply route. Yelper Ida Belle J was irked about buying a pair of "fake" Ray Bans and left a scathing review to let the world know. Pretty Penny posted a public comment, explaining, "We are an honest business & offer FULL disclosure on what we know about any given item that we buy for the store. Since we are a buy/sell/trade & buying from the public and not from a company we cannot always guarantee a product, which is reflected in our affordable price point. We have spent many hrs. on this issue: staff meeting, research & outside consult. We offered a full refund to unsatisfied customers (which you received). We have gone above and beyond in this situation. I deeply apologize that you were unsatisfied and felt grief. Please know that it is not on purpose or malicious."
That exchange took place nearly a year ago…and there haven't been any negative reviews since. Coincidence? I think not.
As mentioned in an earlier post, playing defense puts you in a powerful place. By responding with care, concern, and conviction, you have the ability to send a message to potential customers that you may not be perfect, but at least you're trying.
A little reply goes a long way.