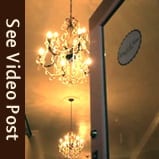 Kreme de la Kreme Nail Lounge is an upscale nail salon in Long Beach, California. It's a "typical" small business in as much as it serves a local audience and relies on referrals and its reputation to thrive and grow.
Although the three-year-old boutique salon probably doesn't refer to it in technical terms, Kreme de la Kreme has really embraced the idea of "online reputation management" (as discussed in an earlier blog post).
First of all…
…the business has filled out a Yelp profile in full; it offers complete information about the salon's specialties and hours, as well as a website link, a company history, photos, and even a special offer.
In addition, the salon's owner, Angela T., is very active on Yelp, responding to user reviews—some of the good ones and all of the bad ones.
In the example below, Angela T. responds to a Good (4-star) review from Cyndi T.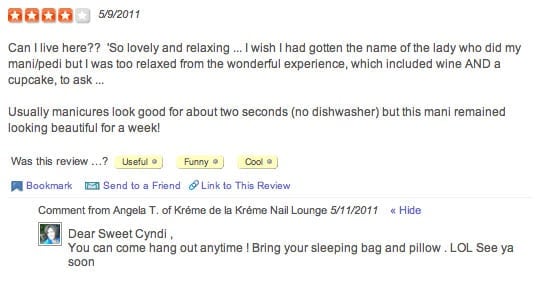 This is a great response because it's personable and encourages the customer to come back again. In addition, it tells new customers that Kreme de la Kreme is a place that remembers its clients and values repeat business.
Actually, just the fact that Angela responds at all positively affects someone deciding whether they want to visit the salon. Because of her interaction, she's perceived as a business owner that is conscious of the results of her services and is engaged with her customers.
Of course, you're not going to please all of the people all of the time. In fact, 10% of Angela's reviews are negative. However, because she's taken the steps to remedy specific issues—and posted her own comments about them—she's likely to be perceived as head and shoulders above salons without any owner comments.
In the review below, Angela responds to a Bad (1-star) review from Carol V.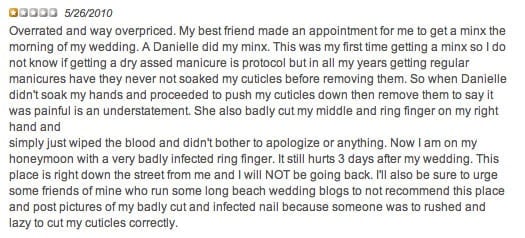 Comment from Angela T. of Kreme de la Kreme Nail Lounge

Angela really gets it right here by saying "we take your comments very seriously." That's really what a potential customer is looking for. Ideally, though, Angela would have also talked about specific actions they take to avoid infections.
It's also important to note that humor and sarcasm doesn't come across well online; Angela's joke in her last sentence may have struck the wrong note with the reviewer and perhaps potential clients, as well. Even so, the quip is true to her style.
In fact, Angela's responses aren't "perfect" by any means. Her replies don't always hit the nail on the head…but they are authentic and real. It's obvious that there's not a PR "machine" responding to her user reviews; it's really Angela. As an involved business owner, she realizes that it's more about the discussion than about answering perfectly.
Her responses to each individual user are certainly important in terms of the relationship that they create with that person, but ultimately Angela's responses are aimed at people who haven't yet been to the salon. So, while she may not be the most polished (except for her fingernails, of course), she accomplishes the most important thing, which is conveying to the potential customer that she cares.
When asked about her thoughts on the site, Angela notes that many of her clients come to her via Yelp and acknowledges that it's an important marketing tool—for any location-based business. Even so, despite Yelp's incredibly persistent efforts, Kreme de la Kreme does not pay for advertising on the site. Angela feels that her profile and comments are enough to keep customers coming in the door.
Her advice to other business owners is simple: "Wait a week before responding to any post," she says. "It gives you time to cool off." The secret to good responses, she notes, is to "be objective and professional"—sound advice for any customer relations effort.