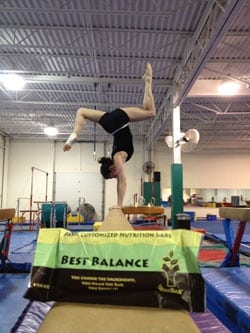 Last week, I introduced Anthony Flynn, Owner of YouBar, a company that makes customized nutrition bars, and started a conversation about customization.
Anthony and his sister, Emily Flynn Vencat, coauthored a new book, Custom Nation: Why Customization Is the Future of Business and How to Profit From It.  Anthony is a proud member of the Maker Movement and knows his stuff when it comes to customization.
What I really wanted to know about the customization trend is…
Olga: What doesn't work when it comes to customization?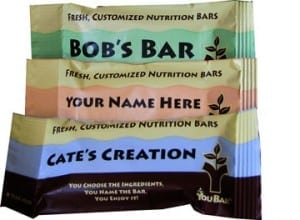 Anthony: There are a few difficulties that you can run into.  The biggest one is that [your employees] get spread too thin.  You can get overwhelmed with the possibilities [of everything you can customize] and then you get away from your target market.  Some things (like us making bars for Little League teams) can take an enormous amount of time and not work too well and not contribute to your core business.
Olga: Isn't that true for customers, as well?
Anthony: Absolutely.  There's a paradox of choice.  [Customers] can get overwhelmed with customization.  It gets too confusing with too many options.  People don't really know what they want.  With You Bar, we try to have no more than six options per category.  Any more than that, and we see a decrease in conversion rate.  We want to hit that long tail, so we limit the number of choices so it's not overwhelming.
Olga: How can other companies wanting to venture into customization avoid the "overwhelm"?
Anthony: A lot of companies could do "customization lite" in a way that's better than complete customization.  We limit the number of decisions a customer can make to try to make it simple enough.  To go outside of that, we have a special request box.  It gives an unlimited level of customization because the customer can type in whatever they like.  This way, it's not overwhelming to the average consumer.
Olga: How do you accommodate the "unlimited" level of customization?
Anthony: Well, you don't have a large amount of inventory, which can create problems when large orders come in.  You have to figure out how to manage the increase and decreases of demand.  It's important to be able to scale up and down quickly and efficiently.
Olga: Overall, what advice would you give a small business wanting to try out customization?
Anthony:
1.)    Limit the number of choices.
2.)    Make sure you have the "lightning rods" (i.e. customer favorites).
3.)    Honor special requests.
4.)    Add a satisfaction guarantee.
Next week, I'll continue the conversation with Anthony again, where we'll talk about YouBar hitting the tipping point—from garnering the attention of a random "fitness mom" to appearing in the New York Times and on Good Morning America.