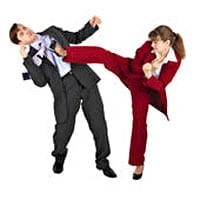 Hey Long Beach-area entrepreneurs and locals who naturally think outside the box! I'd like to invite you to join me IN PERSON for an exciting event next Tuesday, May 28, 2013.
Come bring your ideas and challenges that keep you up at night to the Business MMA: Rowdy Roundtable. Instead of "mixed martial arts," we'll be showing off our "mixed marketing arts"!
So, get ready to connect with other entrepreneurial-minded individuals in our friendly, intellectually-driven discussions. Come and pick the brains of featured speakers, participate in a "corporate cage match" and "go to the mat" with fellow entrepreneurs, discussing ideas. Possible topics include…
…the latest trends and challenges in tech, business, marketing, advertising, social media, and more.
Open to all those seeking solid advice and community with other like-minded business change-makers, this group aims to be the go-to entrepreneurial mastermind of the Long Beach area. Moreover, find the moral support you've been looking for by connecting to other Long Beach Linchpins. (Why should L.A. and Orange County get to have all the fun?)
Heard of Seth Godin, Bryan Solis, Daniel Pink, Daniel Ariely, Chris Brogan, Malcolm Gladwell, Sally Hogshead, or Peter Drucker? Is Mashable or just good ol' Wall Street Journal a trusted source to you? Ever wish you could present your unique concerns to local experts to help your business grow more effectively and efficiently?
Then come get into the ring—this group is for you!
Tuesday, May 28
6:15 p.m.
The Grand, Long Beach
A Whopping $5 Per Person 😉
Your facilitators for the May event will be me, Olga Mizrahi, Principal of local creative agency ohso! design, and Sarah Daniels, Editor-in-Chief of Play On Words.
Can't wait to meet you! Sign up HERE!