Online customer reviews can be scary.  Not the good ones, of course.  It's really just the naysayers who make our stomachs turn.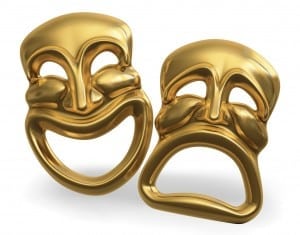 And, if it feels like it's almost always bad news, it's because (um, well) it is.  An American Express survey found that "Americans tell an average of 9 people about good experiences," and "tell 16 people about poor experiences."  Furthermore, the White House Office of Consumer Affairs notes, "news of bad customer service reaches more than twice as many ears as praise for a good service experience."
Rage, it seems, is "all the rage" these days.  In fact, according to ZenDesk, a whopping 58% of people are "more likely to tell others about their customer service experiences today than they were five years ago."  Why?  Well, it seems that when consumers want to give feedback, they're usually looking for a stage.
It may feel like the end of the world (or at least the end of your business) when people start trashing you online.  In reality, nothing could be further from the truth.  There's a silver lining.  Two, actually.
First off, the more reviews your business has, the more likely it is to appear highly in organic search rankings.  In other words, even if people aren't saying the nicest things, the fact that they're taking about you at all is a bonus.
Your harshest critics can turn into your biggest advocates…when you do right by them.  The opportunity to "make it right" is only available when people tell you what's wrong.  In some industries, like the banking sector, for instance, studies have shown that "advocates are worth $9,500 more than detractors."
So, how do you get in the game?  Start by seeing what's being said about you online.  Not only can you set up a Google Alert, you can also comb through the list of review sites and see where you've been listed.
It's important to note that there are a lot of other playing fields beyond the big three (Yelp, Facebook, and Twitter).  Be sure to check out:
Once you've gotten the lay of the land, start participating.  "Claim" your listings as a business owner so that you can start to respond to what's being said about you.  (There's a right way to do that, of course, which you can read about here.)
Why bother?  Lee Resources points out that resolving "a complaint in the customer's favor" will result in that customer doing business with you again "70% of the time."
Contrary to popular belief, customers aren't just online to kvetch.  Three separate studies identified seven motivating factors for writing online reviews, including:
venting negative feelings
helping other consumers
warning other consumers
self enhancement
social benefit
advice seeking
helping the company
Yes, you read that last one right: "helping the company."
Online Reputation Management blog explains: "Online reviewers report that they write reviews to reward companies for a job well done, to help companies make improvements, and to get companies to listen to their needs.
In other words, they want to be heard not by other consumers, but by companies themselves."  In other words, they're writing their review for YOU to see it; not the rest of the Internet.  (Of course, if YOU'RE not hearing them, they'll make sure someone is.)
Still feel overwhelmed?  Break the task up.  Assign each of your employees three or four review sites to "keep tabs on" and have them report in on a weekly basis about what's being said.
After all, in the wise words of Zappos CEO Tony Hsieh, "Customer service shouldn't just be a department; it should be the entire company."