A couple of weeks ago, we talked about putting your best marketing foot forward by starting with your website.  More specifically, your website content.  Of course, it's easier said than done.  So, today, we're going to break it down further.
Ideally, you would be thinking about how integrating a video would best tell your story and answer "Why choose you?" But, before you get there, get your ducks in a row by putting all your written content together.
If you operate a small businesses that does not sell goods online, generally speaking, a "brochureware" website will work just fine.  What that means is that all of the content you currently have in your corporate brochure, you'll simply translate to a web format.  
You don't need to be elaborate and you don't need to include every single thing.  But you DO need to:  
capture the reader's attention

create legitimacy for your business

be clear and easy-to-understand

boldly state your unique difference.  
For basic purposes, we'll focus on copy for the following pages:
Home / About Us

Why Choose Us?

Services and Offerings

Testimonials and Reviews

Staff Bios

Frequently Asked Questions

Contact Us
Home / About Us
When people come to your homepage, you need to give them a reason to dive in further.  In order to do that, you need to answer their initial question up front, namely: who are you, really?
Short and sweet is the way to go.  Also, keep it conversational; don't try to "sound professional."  Your unique personality is much better than a detached tone.  
Start by answering the following questions:
What do you do?

What do you sell?

Where are you based out of?

Who are your typical customers?

How long have you been in business?

Why should people trust you?

What action do you want readers to take (i.e. call, order online, etc.)?
Why Choose Us
As always, you must really hone in on your unique value proposition (or, UVP).  (If you're not sure how to start, read this post.)  Let go of being perfect and, instead, focus on being persuasive.   
You need to answer the following questions:
What makes you different?

What are your "-est"s (i.e. fastest, cheapest, friendliest)?

What makes you stand apart from your closest competitors?

What do your past customers say about you?
Services and Offerings
There's no need to get super elaborate here; just make a list.  In this particular case, the more, the better.  You never know what people are searching for and, if they see you can do that obscure thing they're looking for, you just may have found a new customer.  
When you're writing about what you do (or offer), don't forget to focus on benefits instead of just listing features.  In other words, explain what something will do for the customer, not just what it is.
Finally, make sure you name your services and offerings the way they would be searched for online (and not by your own terminology).
Testimonials and Reviews
I prefer to take this content and sprinkle it throughout the website, so that you back up any claim or show off the "-est" in your service. For the sake of content gathering, though, assemble all your accolades in one place.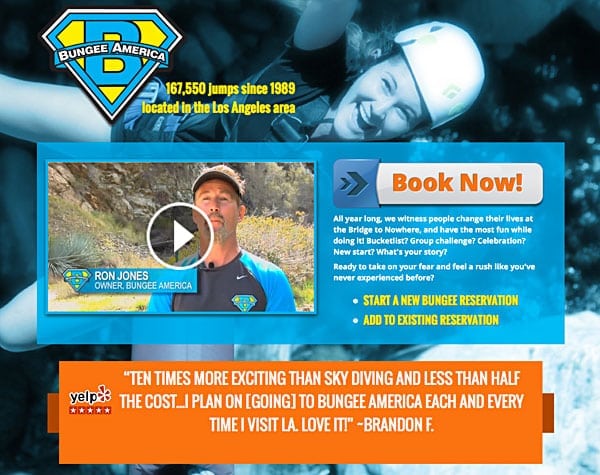 It is crucial that you include what other people say about you…and not just what you say about yourself.  This builds credibility and creates trust.
Ask your best customers to write one or two sentences about your business.  Pull five-star reviews off Yelp.  Tap into what's being said about you on social media.  Then, pull five to ten of those raves into your website.
Staff Bios
To some, a page of bios seems unnecessary.  Personally, I think it further bolsters legitimacy, especially with photos.  People want to do business with real people.  So, tell them who's on your team.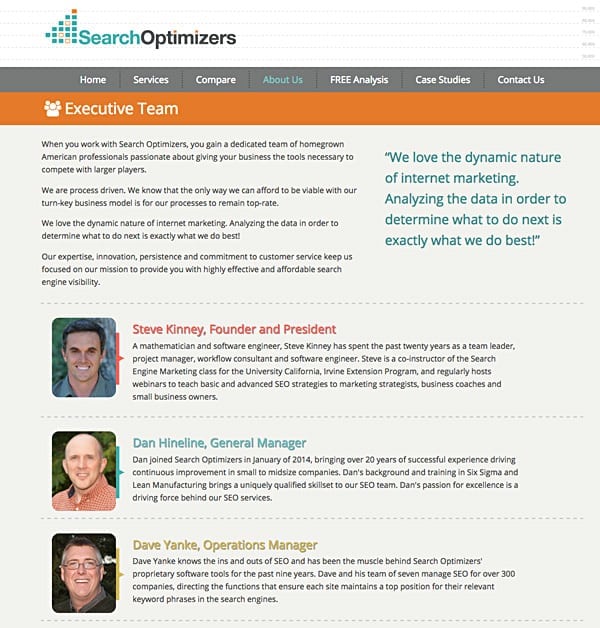 There's no need to name everyone, but including a handful of key figures goes a long way.  Bios are best when they're kept to one paragraph and include:
Who is this person?  

What does she do for the company?  

Where did she come from?  

What is her unique value proposition?
Frequently Asked Questions
Answering your customers' most common questions can be a huge service to both them and you.  An FAQ page serves two key purposes:
Additional keywords can bolster the SEO for your site, and

By answering common questions in advance, you can cut down on customer service calls.
Limit your list to 10 FAQs or fewer and keep the answers brief.  If you need to get lengthy, link to another page.  In addition, for the sake of clarity, use the active voice instead of a passive voice.
Contact Us
The best way to earn someone's trust is to make it easy for them to reach you.  Thus, you'll want to list every imaginable contact outlet: mailing address, physical address, phone, fax, email, and social buttons.
Once you've put all of these things together, you'll be well on your way to a solid website.  Try not to get overwhelmed; just take one step at a time.  
If that sounds tough, just think about what you'd want to know if you were finding your business for the first time.  Then, write it all out…without judging what you've written.  Remember: it's more important to be a good editor than a good writer.  Clarity trumps creativity.  So, get on it already!
Have everything together and not sure if it works?  Well, you're in luck!  I'm offering a FREE, 1-on-1 Clarity.fm call for 20-minutes.  If you're one of the lucky few, we'll go through your "Why Choose Us?" and "Testimonials and Reviews" together.  So, are ya feelin' lucky?  Just contact me for details: olga [at] chunkofchange [dot] com.