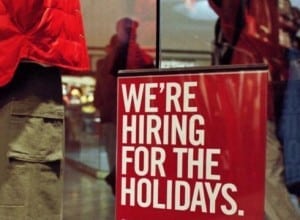 It's hard to believe it's that time of year again.  That is, the time of year when small business owners scramble to hire seasonal help.
Many entrepreneurs see short-term hourly workers as bountiful.  I mean, everyone knows that a call to a temp agency, a Craigslist post, or a career website ad will have job applications flowing in by the hundreds…right?
Well, surprise!  What went gangbusters in years past is likely to deliver slim pickings this year.
There Are More Of "Us"
The competition to hire for the holidays is fierce, according to consulting firm Challenger, Gray & Christmas:
Two in five retailers plan to make holiday hires.
Major seasonal employers (i.e. your direct competition for applicants) include: Macy's, Target, Kohl's, Wal-Mart, Toys "R" Us, and Game Stop.
In addition, non-retailers (such as UPS and FedEx) are beefing up their numbers to align with online shopping habits.
There Are Less Of "Them"
In addition, the Wall Street Journal points out, "The labor-force participation rate—which measures everyone who is employed plus everyone who wants a job who is age 16 or over—was 62.7% last holiday season, near the lowest since the late 1970s."
So, basically, no one really wants to work.  And, who can blame them, when you consider that (adjusting for inflation) retail employees are actually earning less than they were in 2004?
They're Not Where We Thought They Were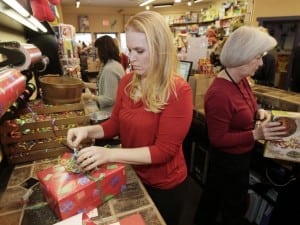 Luckily, it turns out that the best source of holiday help has been right in front of small business owners the whole time.
Hiring for Small Business
Regardless with which route you choose, be sure that you have an up-to-date job description ready to go.  It will make it easier for candidates to self-select and speak to their most relevant skills.
According to MPay's Stephanie Allen, "Another aspect to keep in mind is to make sure your website or 'About Us' information is up-to-date and gives those seeking a position a good idea of your company culture."
Not Every Body Is Equal
Obviously, not all seasonal candidates will be equally desirable.
Quick tip: don't rely on resumes alone.  Instead, consider using questionnaires to filter candidates.  By asking a simple question (like "How much experience do you have in retail sales?"), it becomes much easier to narrow down the the applicant pool.
TIP: Use your gmail account to access an easy Google doc-turned-questionnaire form. I've created a quick Seasonal Help Form for your use to play with…or you can just google "create google doc form" and go all DIY on it.  
"When interviewing candidates," advises Inc. magazine's Evan Klonsky, "look for people who have a willingness to learn, an ability to be flexible with demanding hours and responsibilities, and a genuine interest in using or selling the products."
Above all, recommends Monster, "hire for attitude as much as aptitude. Most seasonal work is about being flexible and getting up to speed quickly, rather than bringing to bear an elaborate skill set."