The week before last, I had the pleasure of sitting down to talk with Tabby Biddle to talk about why there aren't more women speakers out there at conferences and on panels.  Part 1 of our interview can be found here.  This is Part 2.  
Tabby Biddle is a celebrated women's leadership coach, journalist, bestselling author, TEDx speaker, and Leadership Ambassador with Take The Lead. She has supported thousands of women on their path into leadership.
Here's the continuation of our conversation from last week.
Olga: As far as change for women goes, what have you noticed during your time in this space?  
Tabby: Women are starting to value their voices more.  A lot of women are rising, particularly as writers.  Women have access to blogging — there's no gatekeeper.  The truth of women's lives is out there much more in the public conversation.  Because of that, other women are coming forward to share their voice and feeling more emboldened to come forward and be a speaker.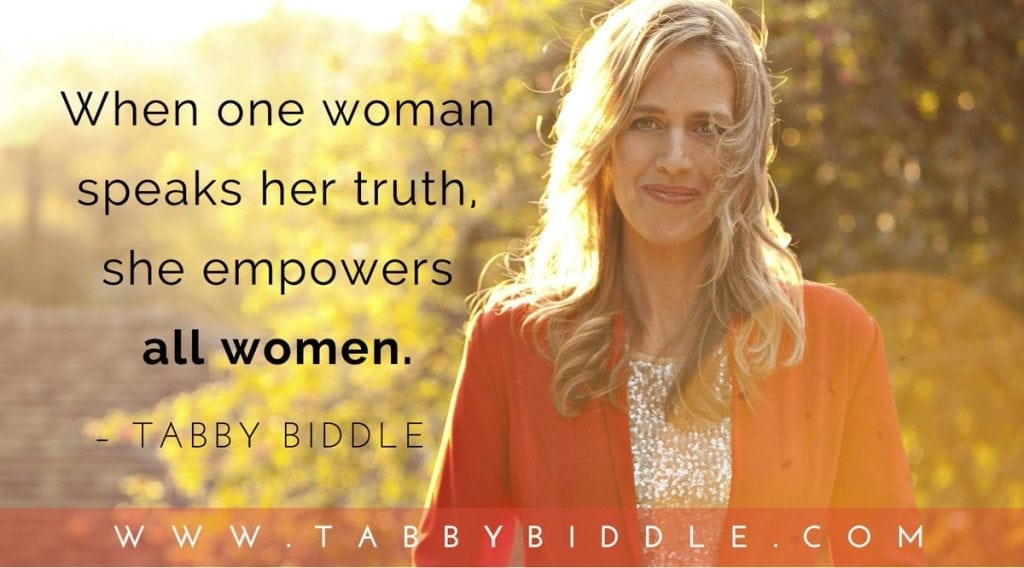 Olga: What about change for men?
Tabby: Men have become aware that they need to be including more women speakers and more non-white male speakers.  Thus, a diversity of race and gender is growing.  There's awareness there, whether or not people are following through all the way.  It's about a dialogue and creating an intention.  I don't want to discount those that are bringing forth the conversation, but the next step is the action step.
Olga: Where have you seen this at play?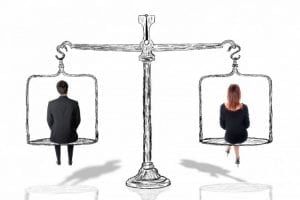 Tabby: I recently heard the First Lady of Los Angeles County, Amy Elaine Wakeland, [Mayor Eric Garcetti's wife], speak.  In 2015, Los Angeles City Hall set gender parity goals…and achieved them.  If government can do this in appointed positions–within a one-year period–then any organization can do this.  As far as action is concerned, organizations need to set goals for gender parity and then move toward them.  Organizations love having goals!  So, why not have a goal of meeting gender parity?  This can be true for event organizers, as well.
Olga: What forces the issue?  Does it have to come from the bottom-up, in the form of a revolution?  And, why isn't there a revolution, after so many years?
Tabby: I think what's happening is that there are pieces of the uprising taking place.  Consider avenues like the Women's Media Center and She Source.  It's happening in segmented pieces.  One reason why it hasn't happened yet in a unified form is that there are still a lot of women working from the lens of patriarchy.  There is a fear that if they do branch out from the social norm, that they may be repercussions.  Even so, we've seen so many women stepping forward through the #ItsNotOkay movement.  I do think it's happening.
Olga: How can men get more involved?
Tabby: I think men are interested but they don't know what to do.  We need to converse with the men in our lives–whether it's spouses or colleagues–not in a heated and angry way, but to have a conversation and a dialogue.  My experience is that men are interested and they're shifting consciousness, too.  Men are starting to value the feminine within themselves.  The valuing and honoring of women will happen once the feminine is out in all of us.
Olga: Agreed.  This is the first generation where men are more involved with their daughters and they are thinking about the legacy for the young women in their lives.  They finally have a vested interest.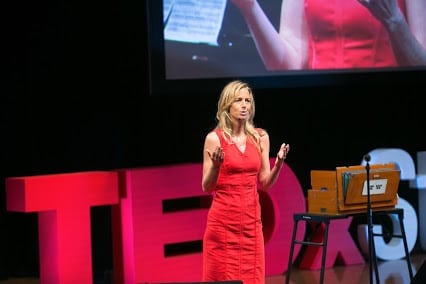 Tabby: That's so true.  After giving my TEDx talk, I had a number of dads come up to me afterward and thank me for giving them ideas of how to nurture young female voices.  Dads see what's happening in society and want to help their daughters become empowered and have a voice that others will listen to.
Olga: What piece of advice would you give to women who want to achieve more visibility?
Tabby: First, get in touch with what you really want to say.  What are the injustices that you see in the world that could–and should–be different?  Get clear and see what you want to be visible with.  Then, become visible so that you can create some type of positive change.  That is the energy that will enable you to get out of your own fear-zone way.  Luckily, there are so many ways to be visible: blogging, article writing, video interviews, public speaking, entrepreneurship, senior leadership, and more.  Ultimately, you will be able to achieve the biggest success when you're driven by a greater purpose.
Olga: To jump up on my own soapbox for a moment, if you're a Los Angeles-based conference or panel organizer, off the top of my head, I wholeheartedly recommend all of the following women as dynamic speakers:
Tabby: Likewise, I would recommend the following group of women:
*****
Tabby Biddle, M.S. Ed, is a writer, speaker and women's leadership coach, specializing in helping women find their voice and take their fair and equal share of leadership across all sectors by 2025. Through her speaking appearances, group classes, and private coaching practice, Tabby has supported thousands of women on their path into leadership – from business leaders, to media personalities, to celebrity activists, to artists, to students, to entrepreneurs. She is the bestselling author of Find Your Voice: A Woman's Call to Action, and a celebrated TEDx speaker for her unique approach to activating women's leadership. A two-time United Nations Foundation press fellow writing on women and girls, Tabby has been featured by prominent national and international media, including The Huffington Post, the Los Angeles Times, USA Today, UN Dispatch, Current TV and NPR. Tabby earned her Masters in Education from Bank Street College of Education and her undergraduate degree in politics from Colby College. She is a Leadership Ambassador with Take The Lead and lives in Santa Monica, CA with her husband and young son. Learn more at tabbybiddle.com.