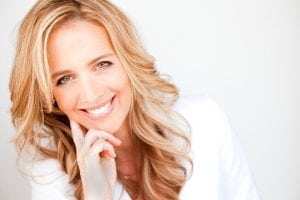 Last week, I had the pleasure of sitting down to talk with Tabby Biddle.  Tabby is a celebrated women's leadership coach, journalist, bestselling author, TEDx speaker, and Leadership Ambassador with Take The Lead. She has supported thousands of women on their path into leadership.
As a professional woman who does quite a bit of public speaking myself, I've always been curious why there aren't more women speakers out there at conferences and on panels.  Tabby seemed like the perfect person to ask "why."  This is Tabby's passion and area of expertise, so I'll let her insightful answers speak for themselves.    
Olga: What are the current statistics on female speakers?
Tabby: I can only speak to TED and TEDx events.  TED executive producer June Cohen gave a talk in 2013 titled "Where Are All the Women Speakers?" in which she stated that only about 20% of the short-listed TEDx talks that came to her (for consideration on TED.com) were by women, and only 15% of the recommendations that came in for the main stage TED were women.  People think that women are out there speaking a great deal but, when you look at the numbers, it's only 20%…or fewer.  There's actually an assumption that when women speak [at all], that they're speaking all the time.  Even in the second presidential debate, people said that Hillary had most of the talk time when, in fact, she didn't.  When I personally spoke at TEDx last year, there were only 3 women out of 11 total speakers.  Women are always in the minority when you look at panels.
Olga: Why is that?

Tabby: Producer June Cohen said that women speakers are harder to find.  I find that difficult to believe.  We're out there in the world!  We are half of the workplace.  So, the excuse may be a flimsy one, but it is one that is used a lot.  I think there are other factors at play.  One is unconscious bias.  Another is that organizers simply forget to invite women to come speak.  
Olga: How can we address that going forward?
Tabby: Women are starting to recommend each other [as speakers].  That's an area for growth.  Women should be recommending each other–and applying for themselves–more often.  
Olga: What about the age-old fear of rejection?
Tabby: Women don't just need to apply to speak; they need to persevere, as well.  If you don't hear back [from an organizer] or get a "no," don't take that personally at all.  Keep on going with the next event organizer or conference.  There have been studies that show that when men apply for a job and don't get it, they blame it on the process, whereas women blame it on themselves.  
Olga: What else holds women back?
Tabby: Women don't value their voices enough–and they've been taught that by society.  Women, for the ages, have been persecuted for speaking their truth and this is held in their psyches.  We often consider our ideas second rate to men's ideas.  Fortunately, this is changing with great feminist thought and conversation.  But it goes so deep into our consciousness.  Men are the assumed leaders and the ones assumed to have the superior ideas.  I know this sounds archaic–and it should be–but it's still very present.  There's an undervaluing, not just by men but by women themselves.
Olga: I think we're missing a key point.  When it comes to standing out and speaking up, many women are afraid of being judged by their appearance.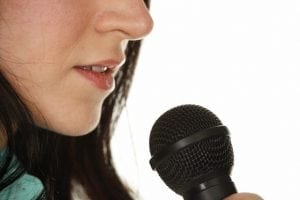 Tabby: I haven't focused as much on that, but it's obviously very important.  Women feel that they're putting themselves in a position where they feel they'll be judged by the way they look [instead of what they say].  They think: "How will I be judged by what I choose to wear today?"  So, in order to protect themselves from humiliation and pain, they avoid it altogether.
Olga: Why is it important for more women to become speakers (even anecdotally)?  
Tabby: It's important because we need the feminine perspective, lens, and experience in the cultural conversation.  Right now, public policy and workplace policy is in service to the life of a man.  Many workplaces have not adapted to the reality of women's lives today.  As a result, women end up suffering financially, emotionally, and spiritually.  They have chronic fatigue and adrenal burnout and the types of things that leave women in pain.  Without women being equally on stage with men, we will never really achieve an environment for women to thrive in.
*****
This is Part 1 of a two-part interview.  Stay tuned next week of the continuation of this conversation!
*****
Tabby Biddle, M.S. Ed, is a writer, speaker and women's leadership coach, specializing in helping women find their voice and take their fair and equal share of leadership across all sectors by 2025. Through her speaking appearances, group classes, and private coaching practice, Tabby has supported thousands of women on their path into leadership – from business leaders, to media personalities, to celebrity activists, to artists, to students, to entrepreneurs. She is the bestselling author of Find Your Voice: A Woman's Call to Action, and a celebrated TEDx speaker for her unique approach to activating women's leadership. A two-time United Nations Foundation press fellow writing on women and girls, Tabby has been featured by prominent national and international media, including The Huffington Post, the Los Angeles Times, USA Today, UN Dispatch, Current TV and NPR. Tabby earned her Masters in Education from Bank Street College of Education and her undergraduate degree in politics from Colby College. She is a Leadership Ambassador with Take The Lead and lives in Santa Monica, CA with her husband and young son. Learn more at tabbybiddle.com.