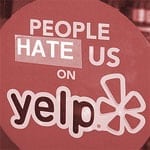 A few weeks back, I wrote a post advising a physical therapy office to get their current patients to provide positive Yelp reviews to bolster new business.  Imagine my surprise when Yelp actually read the article and reached out to me.
So, I did what any blogger with chops would do…and set up two interviews: one with Yelp and one with a Yelp-savvy business owner.  My findings regarding the contentious relationship between Yelp and Business Owners follow.
First, I started out with…
…a hard-hitting question for the folks at Yelp, namely: Morgan Remmers, Manager of Local Business Outreach and Rachel Walker, PR Specialist.
Olga: When small businesses first found out about Yelp, they didn't think, "How can I take advantage of this?"  Rather, many of them thought, "How can I turn this off?!?"  To that end, how does Yelp encourage small business owners to think differently?
Yelp: A lot of that change in perspective comes when I let business owners know that they also have an opportunity to have a say in that conversation.  It's not just about reading "gossip" about you.  In this instance, you can unlock your page and be involved in the conversation.  Claiming your business page is a four-step process; you then gain access to your metrics, your user views, your messaging tools (including private messaging), upload photos, update hours, add up to 3000 characters of content, and so on.
The review giant actually commissioned the Boston Consulting Group to find the economic impact of Yelp.  They surveyed 4,800 SMBs and found an uptick in annual revenue of $8,000.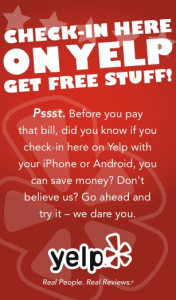 Olga: Aside from filling out their profile completely, how can a small business owner maximize their listing?
Yelp: On the mobile Yelp application, we have 10M unique users.  Business owners can create a check-in offer for free.  You can also utilize the badges we have to link your account to your social media sites or email signature page to raise visibility for those who might want to write a review of your business.
I had a bit of a different question for Yelp aficionado, Daniel Morello, owner of Mountain Mobile Massage & Spa.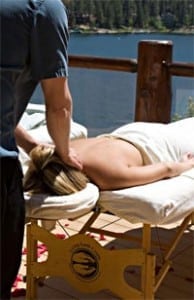 Olga: How do you feel about Yelp?
Daniel Morello: From the very beginning, I've always had a love/hate relationship with Yelp.  First, there's the whole disappearing review thing: one day they're there, and then they're not.  It's a little bit frustrating.  That said, I feel pretty happy with the way things have turned out because of my five-star status.  I'd love to see double digits on the main page, though.
In Morello's case, Mountain Mobile Massage & Spa has many customers that poured their hearts out into five-star reviews. Out of 31 total reviews, however, 25 are filtered. So, most users only see his six un-filtered reviews.

According to Lauren Orsini at MEDIASHIFT, "What it all comes down to is small business owners' beliefs that the Yelp filter, designed to spot spam, is not doing its job correctly."
The filtered review seems to be the bane of many business owners' existence. So, I gave Yelp a chance to weigh in.
Olga: In terms of "filtered reviews," is it a numbers game?  Are some reviews filtered because they're shorter?
Yelp: Really early on, when we launched the site in 2004, we saw a certain behavior pattern.  It's easy for consumers to write a fake review; we wanted to make sure that any content we were showing would be as useful and helpful as possible for users to find a great review. Sometimes perfectly legitimately reviews can get caught in that filter. But in order to keep content useful to users across the board, it's something we have to keep in place. It protects the legitimacy of the site.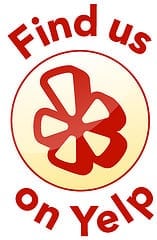 Olga: Why do you discourage business owners from soliciting positive reviews from happy customers?
Yelp: There's a difference between "Find me on Yelp," and "Write me a review on Yelp." The consumer feels like they're a marketing tool for the business.  The reason we discourage that is that it's not going to represent an "average experience."
Interestingly, some business owners, like Morello, are starting to not rely on Yelp anymore—for personal or professional use—for precisely this reason.
Olga: Why don't you ask clients to post Yelp reviews about your business?
Morello: I actually don't want to drive my clients to Yelp—ultimately, it's a place where they'll come across other businesses that do what I do.  That kind of seems like stepping on your own foot.
Olga: What about using it for personal reasons?
Morello: I don't really use Yelp to search much anymore because I realized that reviews are filtered.  There are going to be people who love a place and people who hate it.  There are also more negative reviews than positive and that doesn't really help me out when I'm searching.
Yelp denies these accusations, as a matter of course.
Olga: Is it true that the majority of reviews on your site are negative?
Yelp: That's actually one of the myths.  On Yelp, of the 39M reviews we have on our site. 80% of the reviews are 3-star and above.  We understand that business owners can get emotional about their business listings.  It's their livelihood.
There are those out there who seem to believe that advertising on Yelp can impact your reviews.
Olga: If you become an advertiser, does that affect your filtered reviews?
Yelp: We're pretty straightforward about extortion claims.  There isn't any amount of money you can pay Yelp to un-filter your reviews.  We wouldn't want our advertisers to be able to tweak their rating.
Olga: How are you responding to your own "negative reviews"…and combating the perception that Yelp operates on a shake-down model?
Yelp: I think that one thing that we're doing that's really moving the needle (in terms of de-bunking the myth and educating the business owners as to what they have available for free) is our town halls and webinars.  We also are hosting 22 Yelp Town Halls across North America this year.  Essentially, what we do is host a panel with Yelp employees, business owners, and Yelpers and talk about the process.  We've done 11 thus far this year.  We also do Webinar Wednesdays for free.  We also do video tutorials and update our blog constantly.  We are innovating and creating new ways for business owners to understand how to use Yelp.  The positive of us being able to proactively go out with these town halls and webinars, the perception at the end is "Wow, I had no idea that all of this stuff is available for me on the business side." "Gosh I had no idea that I could respond to reviews." The more we can do that, the better.
I think that, ultimately, the issue with Yelp is that they have two different constituents: their consumers and their customers. Obviously, their loyalty lies with the consumer (the everyday end user), whereas their revenue model relies on their customer (the business owner). The question remains: Is that a sustainable business model?
It harkens back to the age-old question of church and state with print publications.  Newspapers and magazine have long had the issue of serving readers while servicing advertisers.  And we all see how well that's turning out for them.  (Except the Long Beach Post, of course!)
Will Yelp's Town Halls turn the tide of customer sentiment…or will the site wane as business owners become even more disenfranchised? Only time will tell.