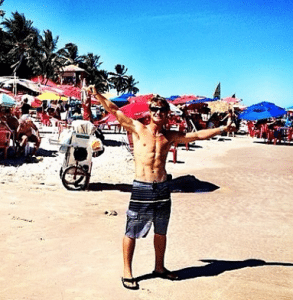 This Saturday, May 3rd, I'm so proud that my company ohso! design will once again be part of the Guinness …
… Book of World Records-making event, not to mention the most fun way to save lives: Standup For the Cure at Newport Dunes, CA
I've posted before on what makes the event so special (including beachside lunch by Ruth's Chris Steak House and Kona Brewing's Happy Hour!), and how as a company we feel committed to this cause as part of our very (breast) fiber.

There are many moving parts that make it a success, from StandUp For A Cure's foundational integrity (giving 100% of event proceeds to save lives) to the standup paddleboard (SUP) community coming together. One of those parts is the online fundraising and registration arm through Crowdrise. Crowdrise did us a solid when contacting founder Judie Vivian last year and lured us away from using active.com as a registration vehicle for our event.
Hey, Active, are you just a registration website, or is there a higher calling?
The move to Crowdrise aligned 100% with our belief that the event by itself is just one incredible day; the cause is ongoing and everyday. The donation platform on Crowdrise has allowed us to raise over 90% of our goal before the event even happens.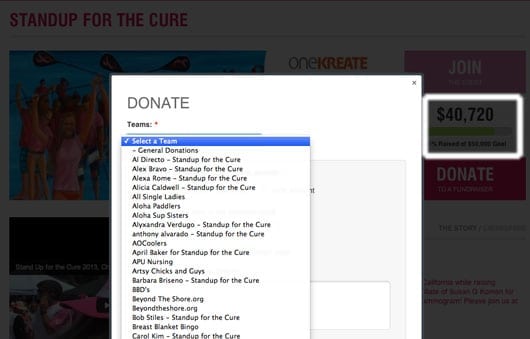 Crowdrise made a custom module just for us to be able to register for the May 3rd event. Unfortunately, it has some silly setbacks, including asking your "doggie paddler" (aka, your kid) to register with their own email address. Active.com might be feeling snarky when seeing that #fail, but I'm hoping that instead they integrate 2014 fundraising into their registration platform, and use their tremendous database for social giving.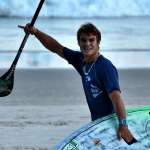 The excitement of teams organizing social giving is incredibly powerful. The power is with the people and Crowdrise is riding the wave. As is our brand ambassador, hottie Zane Schweitzer.
Come see me, or more likely Zane, on Saturday! Do yourself a solid while you're there and get an annual breast exam and skin cancer exam completely free of charge by our SUP doctor team, too.
Looking forward to it!