Oftentimes, when I finish a speaking engagement about the freelance economy, an audience member will ask me which specific tools I use to juggle the on-demand madness.  And, well, I have a long list of freelance economy apps.  Some are websites and apps I use every single day, others are useful only now and then, and a few are favorites of my friends and family members.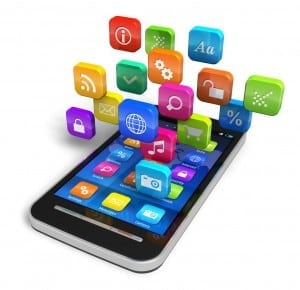 I thought it might be useful to collect them all in one place and, of course, share them with you.  Take from this list what you will and be sure to tell me about your favorites, too, by commenting below this post.    
(w) Web
(a) App
Calendaring and Task Tracking
Google Calendar (w) – Keep track of life's important events all in one place.

iCal (a) – This Web Calendar Server is useful for all flavors of Microsoft Windows and can be used for scheduling meetings, events, vacations, menus, and more.

2Do (a) – Quickly enter your thoughts and ideas before you forget.

Toggl (a) – A simple online timer for small businesses with a powerful timesheet calculator.

RescueTime (a) – Understand your daily habits so you can focus and be more productive.

Tomato Timer (w) – Inspired by Pomodoro Technique, this time management tool is customizable to meet your productivity goals.

LeechBlock for Firefox (w) – This simple productivity tool, this extension is designed to block time-wasting sites.

StayFocusd for Chrome (w) – increases your productivity by limiting the amount of time that you can spend on time-wasting websites

ColdTurkey for Windows (w) – Free productivity program that you can use to temporarily block websites.

Mindful Browsing for Safari (w) – An extension that helps you control your browsing.
Documents
Google Drive (w) – Get access to files anywhere through secure cloud storage and file backup for your photos, videos, files, and more.

Google Docs (w) – Bring your documents to life with smart editing, styling, and sharing tools.

Google Sheets (w) – Create a new spreadsheet and edit with others at the same time from your computer, phone or tablet.

Evernote (a) – Bring your life's work together in one digital workspace.

Dropbox (a) – Keep your files safe, synced, and easy to share.
Education & Research
iTunes U (a) –

Teachers can create and manage courses and students can experience it all.

Overdrive (w) –

Borrow eBooks, audiobooks, and streaming video from your library using your iPad, iPhone, and iPod touch.

Wolfram

|

Alpha (a) –

More than just a search engine, this app provides access to the world's facts and data and calculates answers across a range of topics.

Lynda.com (w) – Video training taught by experts.

TED (a) –

Where the world's leading thinkers and doers gather to find inspiration.

Dictionary (a) –

The leading free English

dictionary.

Udemy (w) Online courses for virtually every subject, optimized for desktop and mobile learning. Some free, some paid.

MIT Open Courseware (w) – Full course material from MIT, online, for free.

Khan Academy (w) – Free courses focusing primarily on building-block skills like math, biology, history, etc.

Skillshare (w) – Educational platform with popular course categories including business, culinary, design, DIY, film, music, photography, technology, and writing.  

Coursera (w) – Partnered with universities to offer paid courses taught by real professors.
Fitness
Salute the Desk (a) –

Mindful stretching and

yoga

at your

desk

or work.

FitBit (a) –

Track activity, record workouts, log food, and connect with friends and family.

MyFitnessPal (w) –

Free online calorie counter and diet plan.

C25k (w) –

Designed to get just about anyone from the couch to running 5 kilometers in just 9 weeks.

Map My Run (a) –

Create maps for your run. See run paths, elevation profiles, distance, add markers and waypoints.

7M Workout (w) –

Make every minute count with the Johnson & Johnson Official 7 Minute

Workout

.
Finance and Invoicing
PayPal (w) – Receive money or make payments online.

Freshbooks (w) –

Easily send invoices, track time, manage expenses, and get paid online.
Freelancing
Desks Near Me (w) – Find co-working spaces

, executive suites, and public spaces near you.

Freelancers Union (w) –

A non-profit organization that provides advocacy and health insurance to its members.
Media
WSJ (w) –

Online coverage of breaking news and current headlines from the US and around the world.

iTunes Podcasts (a) –

Find the best free

podcasts

. Search by popularity or subject, and manage subscriptions.

Flipboard (a) –

A personal magazine used by millions of people everyday. Keep up on the news, follow topics you care about, and share.

Feedly (a) –

Organize, read, and share what matters to you.
Meetings
Facetime (a) –

Talk, smile, and laugh with anyone on an iPad, iPhone, iPod touch, or Mac with a built-in

FaceTime

camera.

Skype (w) –

Chat and call on desktop and mobile.
Technology
Wi-finder (a) –

Allows you to connect all

wifi

networks: Open, WEP, WPA, WPA2.

Full Contact Card Reader (a) –

The easiest way to scan business

cards

into Google Contacts, iPhone Contacts, 250+ other

apps.

Genius Scan (a) –

Quickly scan your documents on the go and export them as JPEG or multi-page PDF files.
Travel
Gas Guru (a) –

Save time, effort, and money before you hit the road by finding the best gas prices nearby.

Waze (a) –

The world's largest community based traffic and navigation app.

Lyft (a) –

Wherever you're headed, get rides in minutes.

Hotel Tonight (a) –

Find and book hand-selected hotels at great prices.

Overnight (a) – Book last-minute stays with local hosts.

Kayak (a) –

Search hundreds of travel sites to help you find and book the flight or hotel that suits you best.

Airbnb (a) –

Rent unique accommodations from local hosts in 190+ countries.
Don't be selfish!  Share and share alike.  What are your favorite sites and apps for the freelance life?  Comment below and be sure to include links!