It's the time of year again when we've all been wishing each other a happy holiday–well, happy wrong holiday, that is.  Poor Labor Day: it has a serious branding problem.  It's always getting confused with Memorial Day and Veteran's Day.  Perhaps it's the lack of distinct colors, songs, sayings, or UVP…or maybe we just have lazy brains.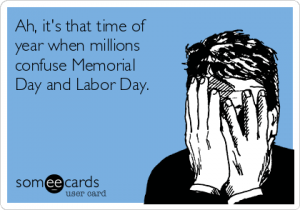 Whatever the issue, Labor Day is supposed to be a "yearly national tribute to the contributions workers have made to the strength, prosperity, and well-being of our country."
So, here's to YOU, workers of the world.  Whether you're a proud member of the gig economy, a corporate employee, or an entrepreneur, you're contributing to our collective bottom line and we salute you!