In August 2016, LinkedIn unveiled its new freelance marketplace, LinkedIn ProFinder.  A direct competition to sites like Upwork, LinkedIn's current financial model charges the "pro" a monthly fee for being able to submit "proposals" to "client requests."  Payments and transactions happen outside of the LinkedIn platform.  Apparently, the site has other monetization methods in the works for the future.  For now, though, only the freelancer pays (after the first five free submissions).
It's no surprise that LinkedIn has jumped into the gig economy in a big way.  According to Fast Company, "Over the last five years, the number of freelancers on LinkedIn has increased by 50%."
My colleague, Sarah, and I decided to do a little case study of the new venture.  So, she signed up for the service and was accepted within 24 hours.

LinkedIn pulled all of the profile details and reviews from Sarah's regular LinkedIn profile.  As far as Sarah could tell, there doesn't seem to be any way to edit her ProFinder profile details without editing her regular LinkedIn profile.  So, she left everything the way it was.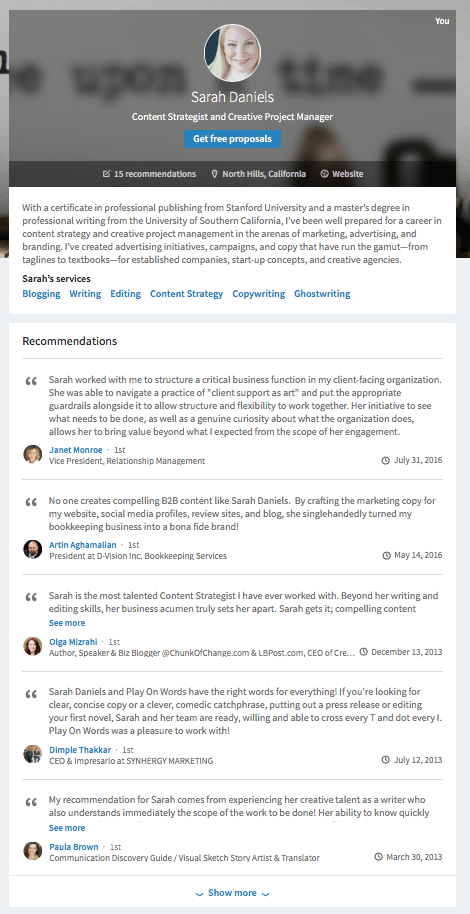 The first step for a freelancer is to click on the "Client Requests" tab and view the "available" projects.  Sarah chose a request for "Content Strategy" in Gardena, CA, which looked like this: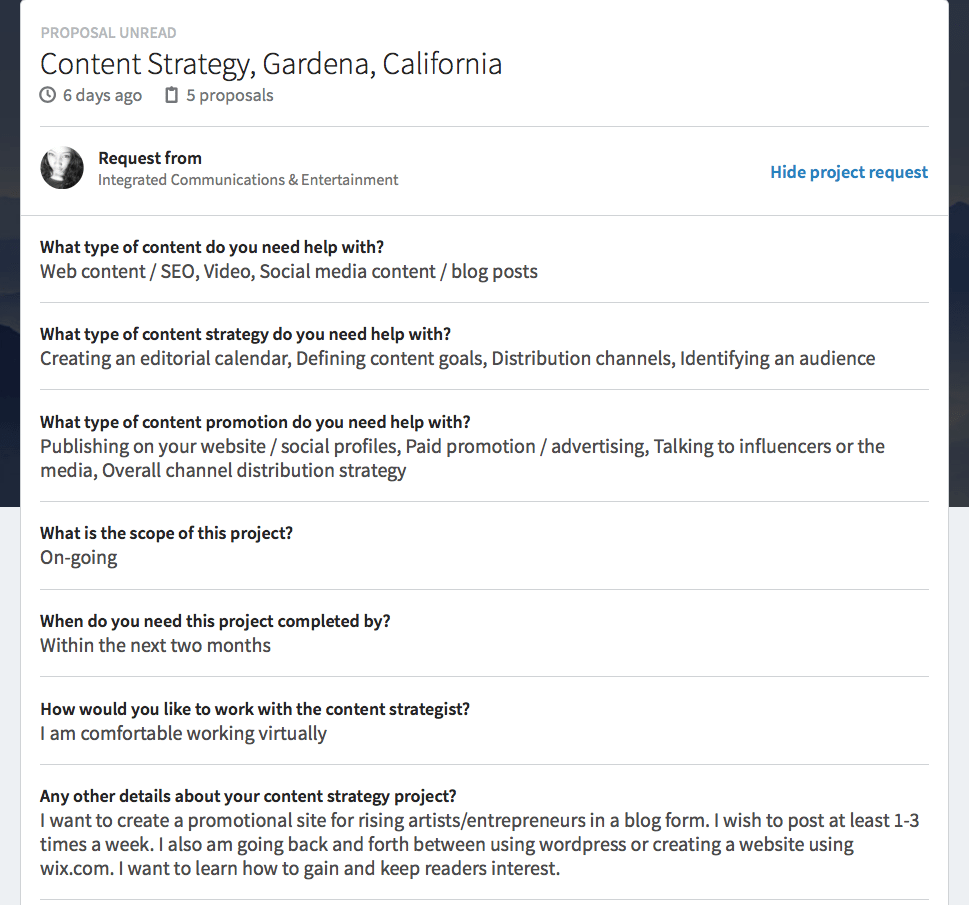 Sarah responded to this request with her own proposal, which looked like this: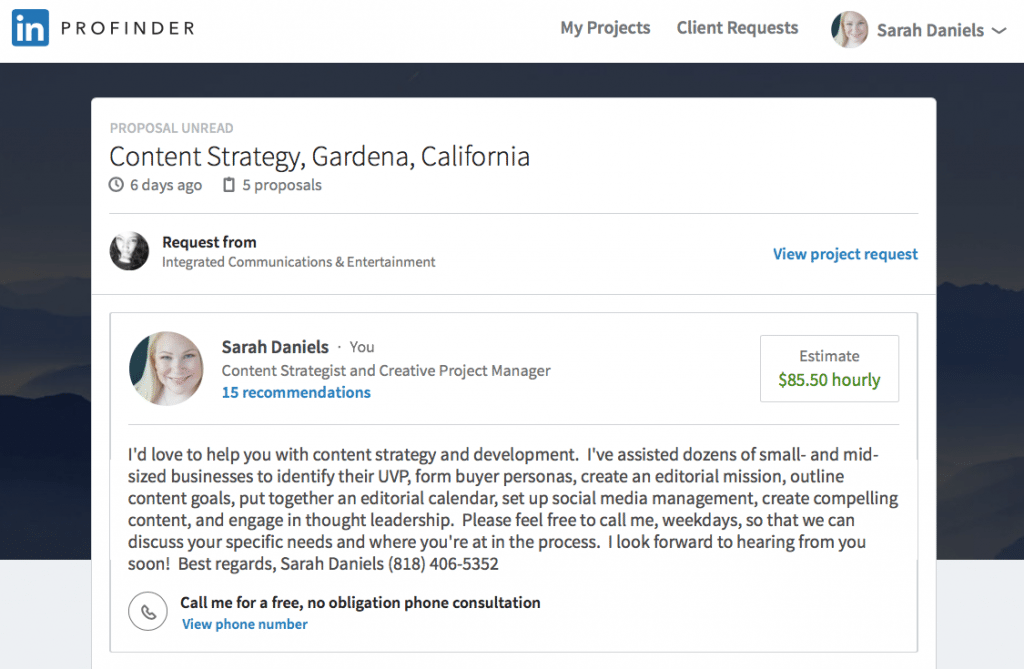 This is where I come in!  (Insert evil genius laugh here.)
First of all, I probably would have passed on this request.  The poster seems to be an individual, not a company, and is just starting out.  According to her pitch, she doesn't have a platform yet and it seems like she's looking for someone to help launch her business.  She probably doesn't have the kind of budget to be able to afford someone at Sarah's level.
Since there are very few requests in the ProFinder system (thus far), Sarah decided to just try the process out with this one.
So far, so nothing.  It's been 11 days since her request and the poster has not yet read Sarah's proposal.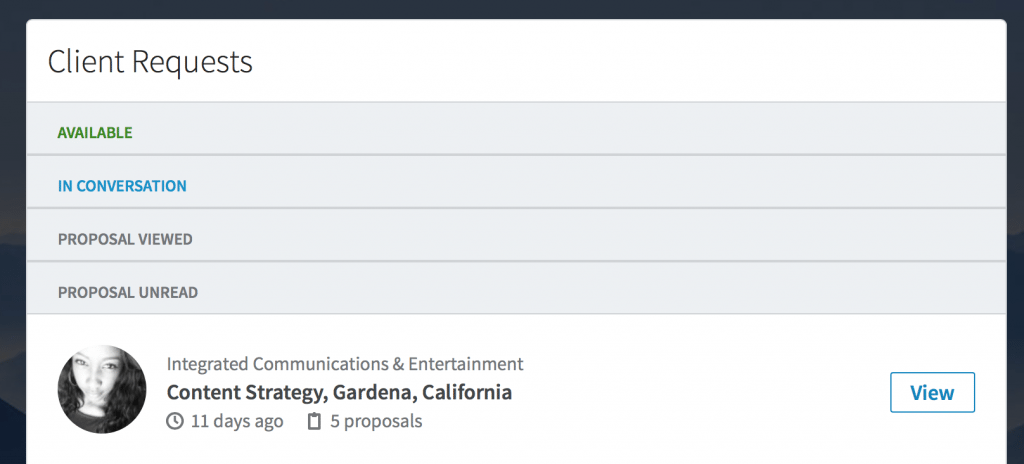 Over the past couple of weeks, Sarah has received a handful of email notifications from ProFinder, but nothing that fits the bill to send a proposal to.  Most Client Requests are from individuals looking for a few blog posts or an article (as opposed to ongoing work).
Hopefully, the platform will evolve as it grows but, at this point, Sarah has decided NOT to sign up for the service, charged monthly.  There just aren't enough high-quality leads to warrant the cost.
I'm curious, though.  Have YOU tried out ProFinder?  If so, what was your experience like?  Did you sign up for the service for a fee?  Share in the comments below!