A few months ago, I went to Social Media Marketing World 2015 in San Diego and had the pleasure of catching Jay Baer's presentation…and it's just kinda stuck with me ever since.  Apparently, I was not the only megafan.  Douglas Karr of Marketing Tech Blog raved, "Jay Baer's closing keynote was one of the best I've seen at Social Media Marketing World."  Word.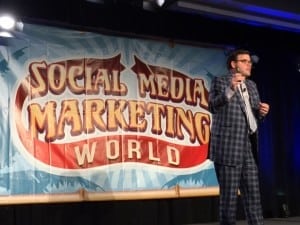 I've long been an advocate of Baer's particular brand of customer service.  In fact, in my recently published book, "Sell Local, Think Global," I spent an entire chapter advising readers to "Change Your Reviews" by paying attention to what customers are saying about their businesses in social forums online.
So, naturally, I'm looking forward to Jay's soon-to-be-published book "Hug Your Haters," billed as "a new playbook for handling unhappy customers."  According to Jay, the rising trend of "haters" on social media may present more opportunities than you'd think.
As you might guess, Jay Baer is no slouch.  He's a digital business expert, speaker, the New York Times bestselling author of "Youtility," the founder of a search engine for marketers' audio education called MarketingPodcasts.com, and the CEO of Convince & Convert.
Jay recently shared with Inc. magazine that his company partnered with Edison Research to determine why and how people complain about businesses.  The group discovered two categories of complainers: people who cry out for help and people who want attention.  Jay believes that it's when companies fail to respond to the latter group that they're missing a huge business opportunity.
See, while only 41% of people who complain online actually anticipate a response, when they do (in fact) receive a response, they're almost twice as likely to recommend the company afterward.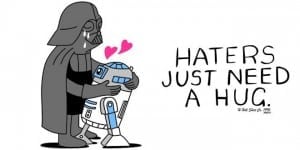 Turn out, haters are not the problem; ignoring them is.  According to Jay, hating is a spectator sport.  "Haters will band together if they're ignored," he warns.
Thus, Jay's advice is: "Every complaint.  Every channel.  Every time."  It's natural to be afraid of complaints, but it's about time to change that mindset.
Many business owners have reasons like these:
We don't see the complaints in the first place.
We don't want to dignify a nasty complaint.
The complaints are too numerous.
But no longer can we bury our heads in the sand.  The customer service model is changing—big time.
It's time to start using complaints to strengthen your business.  When you handle them the right way, your efforts will lead to measurable positive results.
So, get out there and seek out your haters.  Don't wait for less-than-satisfied customers to come to you.  Start doing some social media monitoring, active listening, and out-and-out searching.  "The sooner you can uncover complaints," explains Jay, "the faster you'll be able to patch up those parts of your business."
There are lots of ways to respond to criticism online—and I've discussed those options in the past—but it all boils down to being genuine.  Bottom line: respond publicly, and provide contact information in an attempt to take a hater back offline, into a private setting…thus avoiding a "flame war."
Once his book comes out in print, you can also utilize Jay's genius "hatrix" to guide your responses.  This crafty matrix can help your customer service team deal with problems by explaining the best way to deal with complaints, based on where and how they were delivered.  "By documenting past problems and developing recommendations for each complaint channel," Jay explains, "you'll create consistent messaging that lets your team act fast."
I used to advise business owners that there were three ways to deal with negative online reviews: by not responding at all, by responding to positive reviews, or by responding to negative reviews.  After hearing Jay's new research, however, I have decided to revise my position.  From now on, I'm urging business owners to respond to EVERY review, EVERY time.  It's a bold stance, but I'm on board.
How about you?