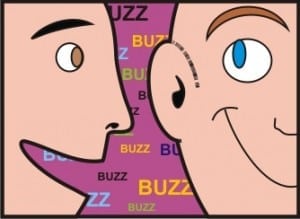 Word of mouth marketing (WOM) has been regaled as a tried-and-true method for building brand awareness and increasing sales. "Word-of-mouth is one of the most credible forms of advertising…" asserts Wikipedia.
"Word of mouth is often viewed as the pinnacle of marketing," agrees Mark Smiciklas of Social Media Explorer. "By its nature, it is enigmatic and difficult to fabricate. Consumer experiences driven by basic business fundamentals (such as quality, service, and experience) seem to fuel WOM."
So, how can you turn the same kind of genuine, whole-hearted, enthusiastic, pass-along marketing seen in the off-line world into the text/Tweet/post landscape? My feeling is that there are three rock-solid ways to generate word of mouth marketing using online resources…and none of them have to do with convincing someone to "re-pin" something. …
1.) Figure out your UVP (Unique Value Proposition) and communicate that UVP through a series of "-ests" (e.g. the fastest, the friendliest, the cheapest, etc.).
Clear UVPs are memorable…and they're what gets passed along. For example, Zappos offers some of the best customer service among e-tailers. In fact, their tagline is "Powered by Service" and they call it their "WOW philosophy." Recently, when I had an issue with an order (a zipper wouldn't open on a new pair of shoes), Zappos handled the situation swiftly and went above and beyond to get me a new pair pronto.  Did I tell my online friends about the experience? Absolutely! Why? Because Zappos delivered on their "-est."
2.) If you solve a problem, meet a need, or have a standout product, turn it into a story to start an online word of mouth marketing wildfire.
For example, a Twitter-happy auto electronics installer, @soundmanca, began installing iPads in vehicles. In order to tout his unique service, he created a series of "how to" videos that also showcase the characters at his shop—a la mini reality show. He then titled his videos in a way that was entertaining and provocative (e.g. "The New iPad 3 Installed Into a Car. Wow!"). Instead of just telling the world that he offers a service, or telling them how to take advantage of that service, he offers a compelling story that, in turn, makes people want to reach out to him.
3.) Play to influencers' egos.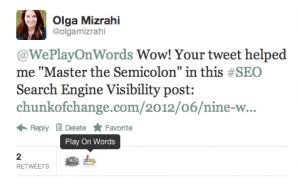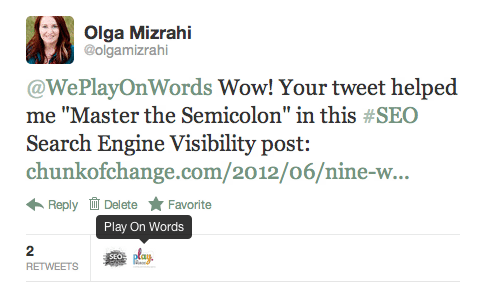 When playing to someone's ego, it still needs to come from an authentic place. Take this example, for instance, where word-of-mouth happens through Twitter.
The key points to playing to influencers' egos are:
(a) it has to be a "thanks" with a purpose
(b) it has to mention something incredibly specific that resulted in a benefit
(c) it has to be short.
Taking word of mouth into the age of the social interwebs means that any of your "-ests" have the potential to spread like wildfire. It's fantastic when you're highly regarded among a peer group offline…but you can only influence so many people.  Translating that into the same feeling into an online environment can give you surprising reach, taking your name well beyond the friends and family list.
So, tell me, when was the last time you promoted a company through word of mouth, either online or offline?