I've long since advocated that local business owners need to capitalize on their own unique lens… especially when it comes to selling globally.  It's all about specialty curation and bringing something to the table that others cannot (or will not)
In my neighborhood (Long Beach, California), I recently saw an excellent example of this, and wanted to share it with you (and my Long Beach Post readers, too, of course).  I urge you to look for opportunities to do this kind of thing in your neighborhood, when you can!
*****
Store owner and designer Melissa Carpenter loves art and artisans. Having designed over the years for Abercrombie and Fitch and Hollister (a brand she helped launch), and serving as the Global Creative Director for Roxy, Melissa's personal mission is to make sure the art of creating is "never too far away or unapproachable."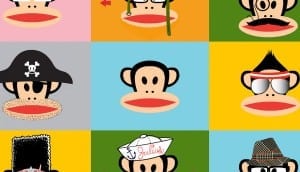 It was with this concept in mind that she founded FAMILY Store, a skillfully curated, artisan-focused kids and housewares retailer that opened on Termino Avenue in 2014. The foundation (and ethos) of the store is all about supporting local makers and working with international handicraft trade.
Not only has Melissa called FAMILY a place that "allows independent brands to rein true," she backs that segmentation up by scheduling special Artists' Workshops at the store. So when Melissa was introduced to Paul Frank through mutual friend Obie Scott Wade, co-creator of Julius and Friends, she knew there had to be a FAMILY tie-in.
For those who may be unfamiliar, Paul Frank started out with a wildly popular cartoon monkey, Julius, and built a design empire—based on his unique and easily recognizable signature style—that led him to collaborate with mega brands like Mattel, Vans, Sanrio, Dr. Scholl's, and John Deere (to name just a few). Today, Paul works through his brand Park LaFun, a quirky design studio dedicated to fun, one-of-a-kind, locally produced items (such as limited-edition handbags, wallets, t-shirts, and art prints).
Don't miss this rare opportunity to team up with with this artistic powerhouse duo and create a master(time)piece of your very own. Regardless of whether you're more Cézanne or Crayola, you're bound to learn a thing or two and seriously enjoy yourself in the process.
When: Saturday, May 23, 2015 from 10AM to 2PM (lunch included)
Where: FAMILY Store— 412 Termino Avenue, Long Beach, California 90814.
What: Build and paint your very own mid-century-inspired clock kit, created by Paul Frank, and take home a working piece of art.
Who: Ages 18 and up, beginners welcome
Cost: $70 per person
How: Pre-registration required at www.shopfamilystore.com
More Information: 562.676.6810 or marketing@shopfamilystore.com