If you've already heard of Jet.com, you're probably either an early adopter or an investor.  But, take my word for it, the tidal wave of awareness is coming soon.  It won't be long before the name Jet is buzzing about the 'burbs.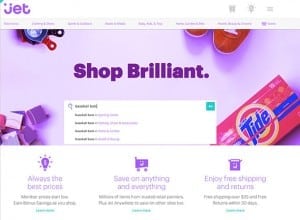 Essentially, Jet.com is an online retailer and "club," poised to compete (on price) directly with Amazon.com.  Sound impossible?  Well…
According to Paula Rosenblum at Forbes.com, "Jet plans to make its profits solely on its $50 per year membership fee. It plans to be profitable by 2020. So far, investors seem to believe in the model: its pre-launch valuation rolled in at over $600 million."
There are already a host of "true believers": the new startup (which just launched in July 2015) is already funded to the tune of $225M–the highest total ever raised in the first 12 months by a U.S. e-commerce company, according to Dow Jones VentureSource.
Thus, it's no surprise that a recent page one Wall Street Journal story called Jet.com "one of the most audacious and costly business experiments in e-commerce history."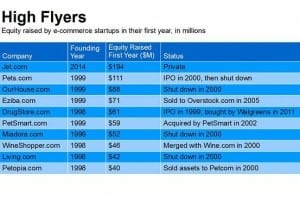 Those kinds of numbers haven't been seen since the late '90s.  (Remember Pets.com, anyone?)  In fact, a July 19, 2015, WSJ article headline read, "Frenzy Around Shopping Site Jet.com Harks Back to Dot-Com Boom."
If nothing else, it certainly is an "-est"!  This is an incredibly bold move and, really, it has to be.
Where did this crazy competitor spring from?  None other than Marc Lore, who the Harvard Business Review reports "has a track record of e-commerce success — previously selling his startup, Diapers.com, to Amazon for $545 million."  Chances are, Lore knows a thing or two about the deep discount game.  Now, however, all bets are on scale.
Why am I sharing all of this with you?
I have always been an early adopter, who finds disruptive ideas fascinating.  Since you're here, I suspect you are secretly one, too.
I think these kind of "freemiums" are incredibly interesting.  It's not just low-margin; it's no margin.  The money's in the membership.  We've seen this before with services and software, but it's a whole new ballgame for products.  What's next?
As a side note: With my first order, I actually earned a spot on "the wall" at Jet's headquarters.  Apparently, my name will be posted (alongside other early adopters) on the purple paint, as seen below.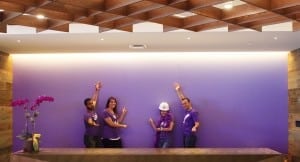 Get it while the getting's good!  I agree with HBR, who advises, "consumers should take advantage of the three-month free membership trial and enjoy the discounts while they last."
While it lasts, you can use the code "GOLDMAN" to claim one free year of membership.  Once you do, start ordering.  In addition to extremely compeitive pricing, at this point, Jet.com isn't collecting sales tax in any state, which can add up big, depending on where you live.  (I saved more than $50 on a $225 order!)  There's no time like the present to stock up on office supplies.