I'm always on the lookout for brands doing it differently and small businesses getting it right.  Thus, I was pleasantly surprised when, after a furry new addition joined our family, I came across a family-owned company called Mighty Paw on Amazon.com.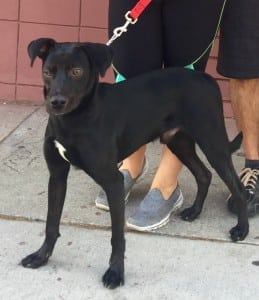 According to their website, Mighty Paw was "created by dog lovers for dog lovers" and maintains a deep commitment to customer service.  Mighty Paw does a brisk business through Amazon and, as such, has clearly come to understand the online retail game.  The brand knows that customer feedback and reviews count–big time–and that any product-related question they can answer in advance increases the likelihood of a buyer leaving a positive review.  It's all about setting clear expectations.  Mighty Paw probably knows from previous feedback how to offset "user error" and explain away common mistakes…before they happen.
In my case, as soon as I purchased a Mighty Paw product on Amazon, I received an email from the brand.  "Please notice that I have attached a start-up document for you to review while waiting for your leash," the company wrote. "This provides basic information on how to use and adjust your product."  They continued on, writing, "If there is any reason that you wouldn't rate this as a 5-star experience, please let us know right away and we'll do what it takes to make it right" and provided a live feedback link.  They also provided a link for me to write a review.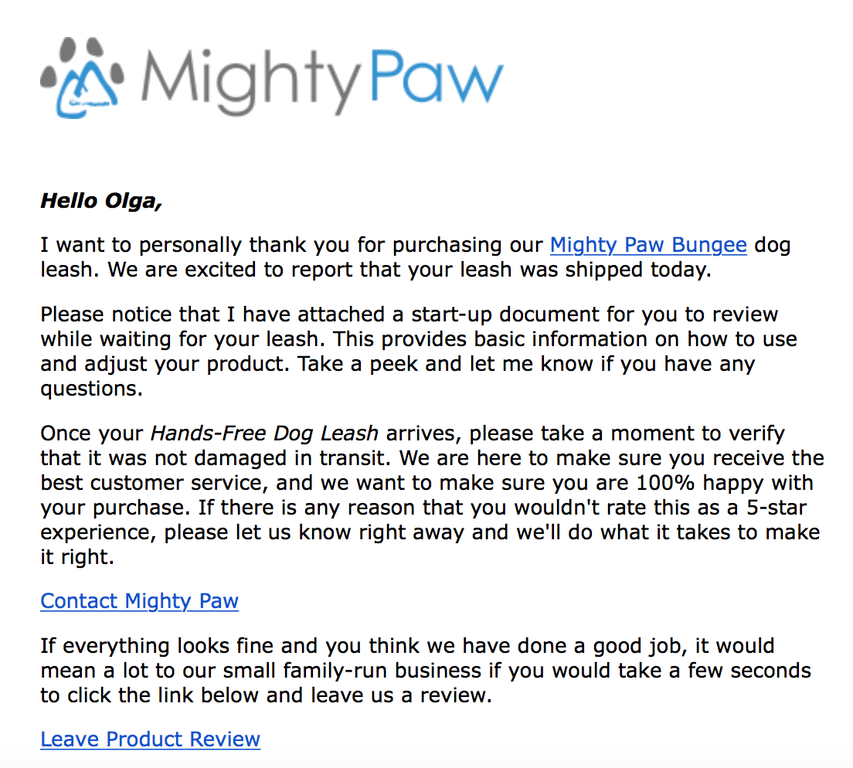 Four days later, I received a second email from Mighty Paw, checking in.  "We are a small family-run business," they explained.  "That is why we take customer happiness rather seriously.  If you are happy with your Mighty Paw Bungee and think we have done a good job, I would really appreciate if you would leave us your feedback.  Frankly, without your feedback and reviews we couldn't exist."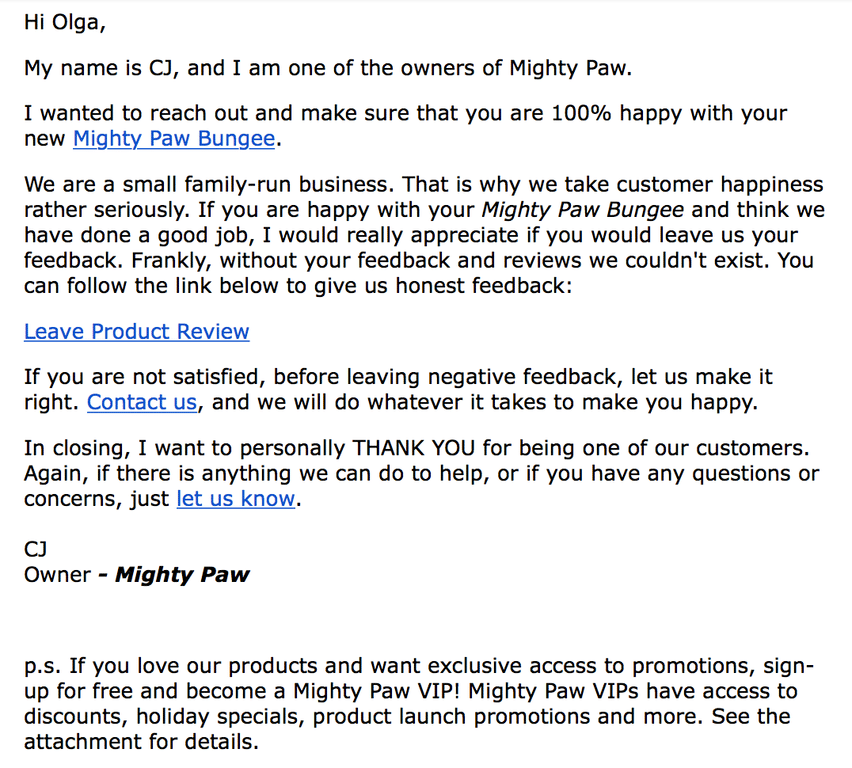 Best of all was their treatment of negative feedback.  "If you are not satisfied, before leaving negative feedback, let us make it right. Contact us, and we will do whatever it takes to make you happy."
I love being able to point out a business who's doing it right.  Hopefully, my brush with Mighty Paw's "customer happiness" efforts will get the wheels turning for you.  Of course, there are a million things to keep track of when you're a small business owner or freelance entrepreneur, but if you can focus for a moment on improving just the customer review process, it's bound to enhance your experience and, more importantly, boost sales.
Had a particularly good experience recently?  Share it with me by leaving a comment below!