We recently spoke briefly about Airbnb's new program Experiences. Let's get a little more in-depth with this exciting platform that allows solo-preneurs, freelancers, and experts in their field to follow their passion and pay those pesky bills.
The Intro
I can hear those inspiration pens and pencils starting to scribble! Let's keep that inspiration train on the track. Here are some currently offered Experiences:

Get with the Experts
Access combined with Expertise is the key to successful Experiences. Anyone can walk around a Farmer's Market and point out lovely things to purchase. An experience is taking that same walk with a 20-year veteran who also teaches gastronomy all over France.
An adventure through a Parisian Farmer's Market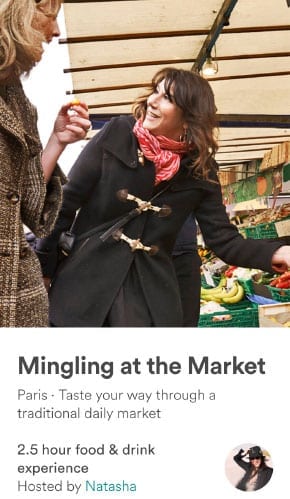 This Experience pairs travelers with Natasha, a Parisian foodie who has been shopping in the local Farmer's Market for twenty years. For two and a half hours, and only $72, Natasha will walk you through the bustling Farmer's Market near the Bastille. You'll enjoy the sights, sounds, smells, and tastes under her passionate guidance, and wrap up your day with a Meal of Tastings, and of course…wine!
We practice what we teach at Chunk of Change, so we always take time to read the reviews. Let's see what Natasha's customers said about the experience. If she's done her job properly, her Unique Value Proposition, the unique value value she offers her customers, will shine through.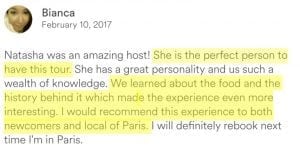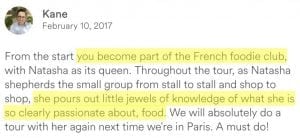 And there you have it: Natasha throws down! People focus on the "ERS," I'm bettER, fastER, or cheapER. To communicate your unique value, you have to focus on your "EST": the cheapEST, the fastEST, the bEST.  Natasha is the bEST in her field, and her expertise, knowledge, and personal network come through in her customers joyful responses. For Kane and Bianca, Natasha is the only choice.
You can also Google "Los Angeles Helicopter Tour" and be flown high above the LA skyline by any number of commercial tour companies. An Experience is flying over the downtown skyscrapers with a seasoned filmmaker whose passion creates a positive social impact.
Looking down on The City of Angels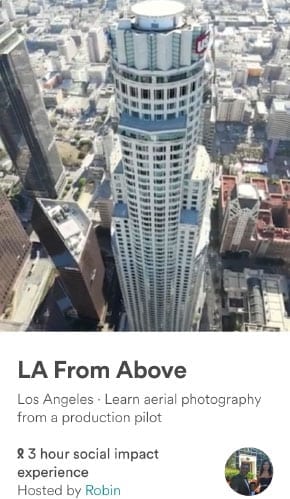 For those who like to mix a little danger and awe with their positive social impact will find a perfect fit with Robin of LA from Above. 100% of the proceeds from this Experience are donated to Tomorrow's Aeronautical Museum, a non-profit educational institution that integrates youth mentoring and community involvement with aviation. Robin will teach you how to get perfect movie shots first by prepping at Tomorrow's Aeronautical Museum, and then taking you soaring above Los Angeles to icons like the beaches of Malibu, the Queen Mary, Beverly Hills, Dodger Stadium, the Hollywood sign, and cliff-front celebrity estates.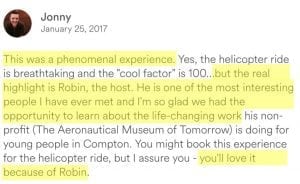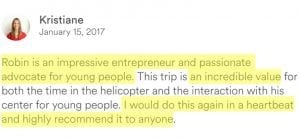 The ballots have been cast: Robin's entrepreneurial spirit, immense sense of community and charity, and sterling personality combine for an inviting, one-of-a-kind, must-experience adventure!
Let Experiences shout your UVP
Airbnb is helping freelancers reach a wider audience, and convert their everyday passion into a lucrative business. Experiences is open to all – you don't have to be an Airbnb host to participate and host an Experience. So get ready, yes you!, to share your UVP with travelers from around the world.
Experiences vs. Immersions
Airbnb offers two ways for freelancers to participate. Experiences are limited to a few hours, while an Immersion takes place over several days. Depending on how long you will be in town, Airbnb has Immersion and Experiences curated by locals to fill or compliment every moment of your journey.
I'll share my Experiences with you!
I'm a proud and successful host for a gorgeous Airbnb destination in the snow-covered mountains of California. But I won't stop there, oh no. I'll be embarking on my own Experience-hosting saga very soon and I'll make sure to share all the ins-outs, up-downs, and successes along the way with you. Stay tuned fellow travelers…