As you may know, I am an AirBnb Host. We have a hideaway in the snow that we invite AirBnb's thousands of users to consider for their next get-away. AirBnb has recently stepped up its efforts to be a premier platform for the gig economy. Their new Experiences program is a great way for solo-preneurs with unique talents and expertise to reach a wider audience and do what they love! You probably also know, when I see an opportunity to make money doing what I love, I dive in, paddle and all…
I decided to take the plunge and become an experience Host, and I'm taking you, dear readers, along for the ride! Step by step, from concept to my first customer, Chunk of Change is going to share this unique experience with you and provide insight into communicating your unique value along the way!
Here we Go!
From my profile page I headed over to Become a Host. Sounds about right…
You can also start right away at the bottom of the Experiences page…


AirBnb offers three ways to be a Host:
Host your extra space

Host for your neighborhood

We want:

Host unique experiences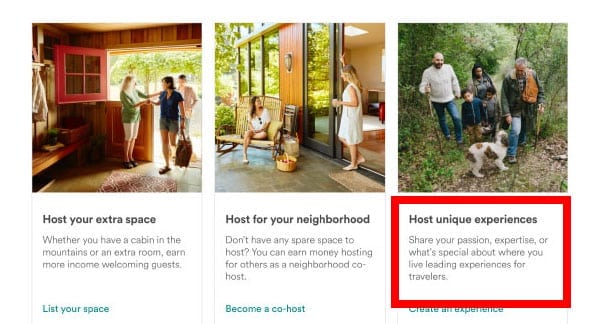 You don't have to be an active Host to qualify for hosting an experience, so don't let that deter you!
What Can You Host?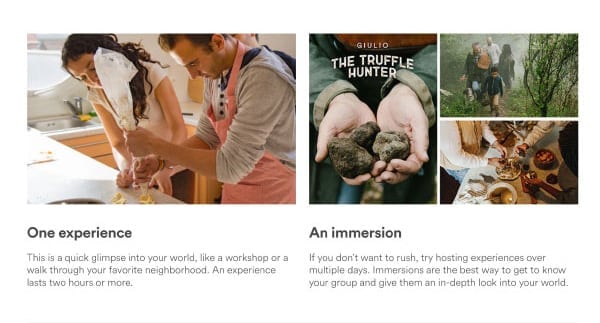 This is wide-open: from truffle hunting to flying high over Los Angeles in a helicopter for charity, all you need to host an experience is insider access and a one-of-a-kind adventure to share. The key here is one-of-a-kind; an adventure that is best experienced with you because:
You're the expert!

Thousands of people hike to the Hollywood sign every year, but only you know where to be to see the sun set against the downtown skyline
You (literally) can't do this with anyone else!

You hold the world record for underwater basket weaving with seaweed and it's all in the wrist…
You have access that no one else does!

Backstage access to a local venue, or an audience celebrity, you know the right people and all the passwords
Going to a screening at Mann's Chinese Theater is amazing, going to the screening and then having drinks with the director after is an Experience! See what I mean?

Are you ready? I'm ready, let's create…
Chairman of the (SUP) Board
So what is it that you bring to the table? What are you the bEST at? What can you offer customers that no one else can? Before you can give someone a one of a kind, life-changing experience, you have to know, in and out, what makes your expertise unique. If you haven't, make sure you nail down your UVP before deciding what experience you will offer.

I know you're dying to know…what is Olga's Experience? Stand up paddle boarding in the breathtaking Pacific Ocean with a creative agency CEO, hot #1 author, marketing strategist, gig economy expert, speaker, and passionate paddle-boarder!

Yes, you read that correctly, a board meeting (pun definitely intended) with yours truly, bobbing on the cool, breezy, Pacific Ocean with Catalina Island as our backdrop.
Surprise and Delight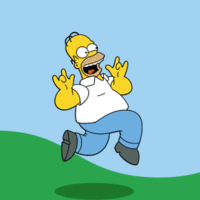 We're not just scheduling adventures here, we're making memories. If my customer has a collection of paddle-boarding experiences to draw from, I want to make sure that our day together wins as favorite memory ever. Can you prep for the meeting in any special way (i.e. a birthday treat if it's a special day for them.) Can you offer photographic or video evidence of your customer's joy? What can you do to make this Experience a long-cherished (and if possible, often revisited) memory? This won't necessarily be spelled out in your Experience, so it serves as an added value, a delightful surprise for your customer!
The "leave-behind" is a traditional practice that works. It's a challenge to keep someone engaged once you are no longer right in front of them, and leaving something behind – a business card or a note sent on their birthday – helps keep you, and your business, on their mind. Every aspect of your Experience should be tailored to surprise and delight your customer, and your leave-behind should too. Think of a unique way to say hello after they've gone and inspire them to return!
Now I can't give away all of my secrets, but I'll whisper quietly that one of the surprise delights I had considered for Chairman of the (SUP) Board was a clandestine candid photo of the customer enjoying the day. Snapped on the water, sent to the printer as we return to the dock, and ready for pickup and gifting before we part ways! Note to self: make sure there is photo paper for the printer!
Create the Experience
You've done the hard work thus far to find your unique value, so now it's time to put that expertise to work. The set-up process walks you through some of the important details necessary to communicate your experience to the customer. Details like, What Language Will You Host In?, and what Category your business best fits into. Choosing the right category is important to reaching customers who need what you have and are willing to seek it out. Need seasoned and incisive advice on navigating the world of marketing and making your business thrive? Want that advice under the world-famous California sun while your legs dangle in the ocean? Then I'm your expert!
Refer to your UVP for good ideas, your ESTs are perfect candidates for your category.
Create the Experience Page
Next we create a landing page for our Passionate Paddlers. After clicking on the thumbnail for an Experience, the next thing the customer will see is your landing page. The battle for the customer's attention is won on this page. This is where you show that you are not just a stroll through a farmer's market, but a renowned Parisian culinary educator hosting a curated sensory experience. Did you like that? That's what we're after, Why Choose You over someone else? Why are you the best and only choice?
What do we call "it"?
Chairman of the (SUP) Board of course, what else? Be clever but be clear. Confusion about what is being offered is a big no-no. The title is very much a first impression, the customer will see only the title and an image while searching for their perfect Experience. Make sure it's a title you can't scroll past and will inspire your target customers. In my case, stand-up paddle boarding (SUP) is right in the title, and is wrapped in a business pun.
How long will we be delighted?
Two and a half glorious, uninterrupted hours! This goes without saying, but no talking/texting others. I don't think "ignored and not listened to" is the experience anyone signed up for!
What you have to offer will dictate the time duration. Give plenty of just in case time and remember to give your customers an unrushed and unforgettable experience.

AirBnb offers it's users two options for their trip: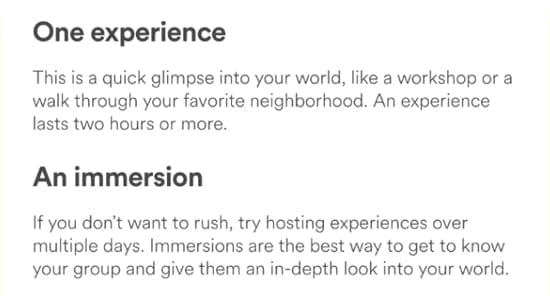 Experiences, like the one I am hosting, take place on a single day, in my case, over a couple of hours. Solo-preneurs can also host Immersions, which extend over several days.

Write a Tagline

Here we need to expand a little on the cleverness that is our Title. Short, sweet, catchy, unique. Where we needed to be conservative with length for our title, our tagline gives us a little more wiggle room. Expand on the title with more enticing details, or give it to them straight and tell them exactly what's coming!


Add Photos for Your Experience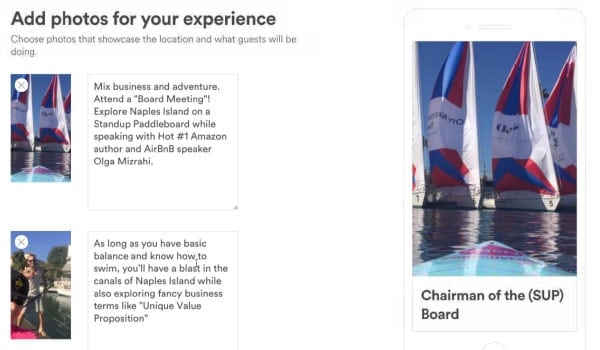 Take the time. Take all of the pictures – more than you think you need, don't get caught short! Give your customer a dazzling depiction of your intentions on their experience. Capture the elements of the experience that will grab your customer's attention: I went with images from the nose of my paddle board, and lil' ol' me, because that's what you get, and if we're a good fit, that's what you were hoping for!  Pictures will go on all day, so let them do some of the talking!
Who are you? Bio time

The bio is another opportunity to let your UVP shine. If your UVP does not include your sterling personality and ability to find fun in any situation, make sure it's in your bio! Include your qualifications here as they apply to the experience you are offering: your education, your past achievements, and accomplishments. Your bio helps round out your answer to Why Choose You?


What's on the Menu?

Now you need to give your potential customers a detailed run-down of what is to come: capture the sights, sounds, and smells of your experience. As the expert include the details that only you can share. This will not only entice your customer, it will also lend credibility to your expertise. Don't be tempted to be traditional or safe, be unique and show your customer something they can only experience with you.


Mention Where You'll Be

This seems self-explanatory, but take into consideration that your experience may be an additional part of someone's complete trip – including, possibly, an AirBnb rental. A customer staying on the Las Vegas strip probably won't have much use for sailing instruction. If you are offering an experience that is not only a unique experience, but also unique to the area, Where You'll Be let's the customer know exactly where the action will take place!


I Was Told There Would Be Punch and Pie
Will there be snacks on this adventure? Drinks and reflection? A sampling of the day's purchases along the way? Or something as simple as the best fish taco on either coast? Tease your customers with the anticipation of gifts.

Finishing Touches

We've created our landing page to entice and delight, now it's time to put the finishing details together for our experience.
Have Any Guest Requirements?

Must be able to swim. I really can't stress this enough. You don't have to be a seasoned SUP-pro, and if you aren't, I'm here to help! If your experience requires special certification, an uncommon stamina, or the ability to suck down a shot or two of tequila, it bears mentioning…


A Few More Details…

Maximum Number of Guests:

Is this a single rodeo or is the team invited? Keep it one-on-one if the experience calls for it, and set boundaries when the goal is to forge ahead as a group.

How Much Time Do You Need To Prepare:

Before taking someone, or a group of someones on this experience, do you need a few hours' time to prepare? A few days? A few weeks? This will obviously depend on what you offer your customer, but it will also help AirBnb set your schedule. You also have the option of taking last minute guests to fill in empty spots.
Give Your Guests Context

There's a story behind most things, and there is almost always a story behind projects fueled by passion. Some stories involve struggle, and some peace of mind, but they all give a background and a context. How do I, for instance, know how relaxing, smile-inducing, and productive a business discussion can be afloat in cool, calm waters under a neon blue sky? Because I've done it, I've lived it, and now, I can show you…


Create A Packing List

One of the most important parts of this process. When all else fails – warnings, caveats, red flags! – a thorough packing list can save any day. You've been doing this long enough to offer it up to the world as an experience, what do you need on any given day? What if that day is four days, and returning "home" isn't an option?

A reminder from Mom: sunscreen is always welcome outdoors.


Tag Up Your Experience

The signup interface allows you to set up tags for your page. Do it. Tags tell AirBnb which words, or phrases, your target customers will type into the search bar when looking for their experience. For instance, I want to be connected with people who type things like Stand Up Paddle Boarding or Business Marketing when looking for a good time! Getting across the unique value of your experience will pair you with the best customers.
Feedback and Suggestions

As a final polish to the process, AirBnb reviews your experience and offers comments and suggestions. In the event that something doesn't quite makes sense, or might make more sense if presented in another way, the comments from the Experiences team give advice on taking the Experience to the finish line. This is important advice, it comes from the people who know what people are choosing and why.

What Next Sensei?

You are ready to submit your experience for review. AirBnb scrutinizes each application for uniqueness of the experience, and its potential appeal to their customers. It is definitely survival of the UniquEST…
Waiting is the Hardest Part
It's true.
And then…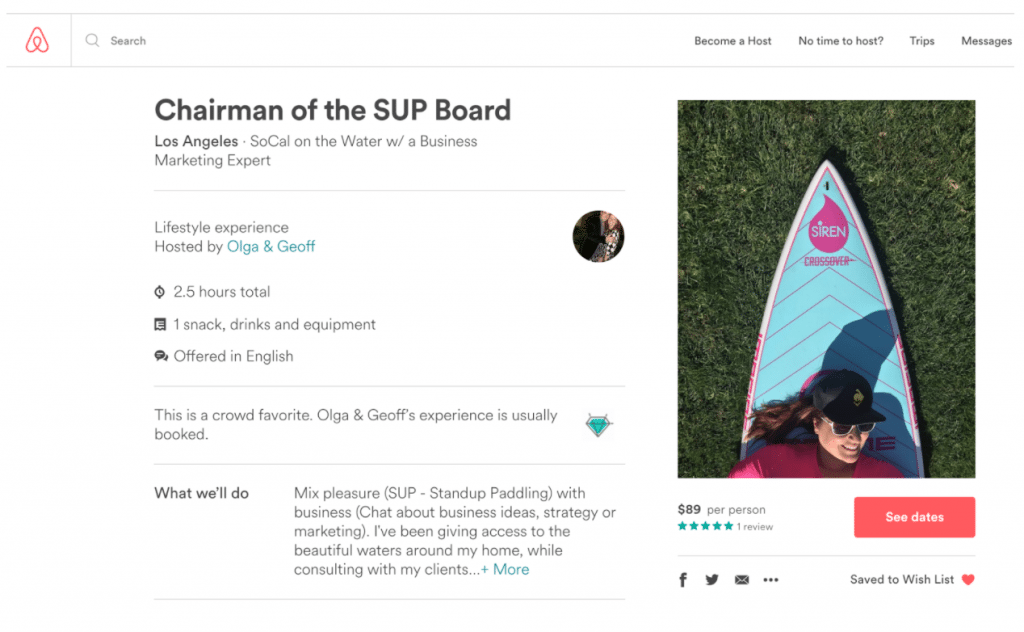 SUCCESS!
The Chairman of the (SUP) Board is now among the Experiences being offered to travelers around the world that find themselves in fair-weathered and beautiful Southern California. And I know that I will soon be spending time doing both things that I love dearly and enhancing the life of a customer and a fellow traveller.
The next step is getting set up for our very first customer…