The mission behind Chunk of Change is helping you succeed in the gig economy – the fastest growing part of the job market. Over the weekend, I was a proud to be a speaker at a Career event geared toward collegiates and alumni from the Alpha Chi Omega fraternity, the 2017 Southern & Central California/Nevada Province Day. Full disclosure, I am also an Alpha Chi alum, and a major proponent of their mission to empower their Real. Strong. Women. The event provided close to 500 women with education and  networking opportunities to pursue the career of their dreams!

Passing Opportunities along to the Next Generation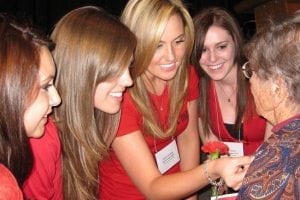 My talk focused on Personal Branding, specifically on helping answer the fundamental question, "Why choose you, in particular?" In order for the next generation of Alpha Chis – and the rest of the freelance and gig workforce – to shine and stand out they must know what makes them the best, and only choice in their market. The next step is to learn how to communicate that unique value – that makes you the best! – to businesses looking for talented, independent, solo-preneurs.
Discovering and communicating your unique value
Rather than drone on about all I covered, how about you get to play along? I created a special worksheet for AXO's that everyone can download here. Fill it out and then get back in touch with me. I'd be happy to support you in understanding how you can get chosen in the new economy.
My message to you
More than ever, it is important to recognize how the traditional workforce is evolving and the normal 9-5 is changing from the standard to out-dated. By 2020, more than half of the workforce will be an active part of the freelance economy.  Overcoming the "noise" of a crowded marketplace, will make you a top candidate to land that special gig.
It was my honor to share information with the women of the future, and I would love to add you to that list. Please sign up on the book page for the Gig Is Up and we'll take the journey together. I got your back, sister.