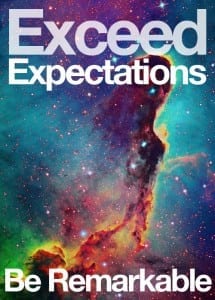 In the freelance economy, it's not enough to simply meet expectations (think: customer "satisfaction").  When it comes to on-demand workers, there will always be someone ready to do more, waiting in line behind you.  The same is true of retailers–both online and off.    
Indeed, today's retail ecosystem thrives on the kinds of products (and services) that a customer is excited to tell others about.  Thus, in order to survive, a business needs more than just customers; it needs raving fans.  These loyal repeat customers create lifetime value–the lifeblood of any brand.  
Research performed by RJMetrics 2015 Benchmark Report Series found that the most successful ecommerce brands earned the majority of their revenues from repeat purchases (past the third year of operation).  Happy customers, it seems, spend more, buy more often, and tell their friends, which lowers marketing acquisition costs overall.
But what is it, exactly, that transforms someone from a casual shopper into a devotee?  Perhaps the easier place to start is by looking at the bottom line.  What does a seller need to do just to get by?  
What Customers Expect
Products (or services) that truly deliver what was described and promised

Prompt handling and/or shipping (ideally, free or very low-cost, depending on the competition's offerings)

Abundant, fast, friendly, crystal-clear communications, both before and after purchase

A fair return or refund policy

Today, even if you provide a stellar experience on all four of those bullet points, you still may not get a full five-star review.  It simply takes more to shine.  That being said, only after you've addressed the basics can you move on to the enhancements.  Let's look at what it truly takes to begin exceeding expectations on a regular basis.
How To Exceed Customer Expectations
Communicate more frequently and more in-depth

Add an element of surprise and delight to the purchase process (Note: Even a service can come with a free "overtime" bonus.)

Make yourself a "new customer" from time to time to see the process first-hand 

Solicit customer feedback and pay close attention to what people are saying

Perform surveys, ask what's really important, and work to deliver the unexpected
Of course, you must determine your own unique ways to go above and beyond without giving away the store.  I recently used DoorDash to order food delivery and was quite delighted when the driver texted me directly to let me know that the restaurant had experienced a delay.  He didn't have to give me a heads up, but the fact that he did certainly improved his gratuity.  
Just as there are fancy "craft" cocktails that come in special glasses, perhaps there should also be "craft" freelancers that deliver above-and-beyond.  If you're considering heading this direction, you'll definitely need the following:
A unique skill set

Consistent communications

A special "look and feel"

Added value

An easy way to be found
As always, a lot of this circles back to unique value proposition ("UVP"), which I've written about extensively on this blog.  I encourage you to fill out the UVP worksheet if you haven't done so already.
If you have some new ideas about how to enhance your customer experience and need to run them by an expert ear, you can always schedule a FREE 20-minute Clarity.fm call with me.  Just contact me for details: olga [at] chunkofchange [dot] com.  I can't wait to see your brand become the Moscow Mule of small businesses!