Learning from a Gig Worker Survey
What can I learn from others that have been doing this a long time? Well, how about looking at what we can learn from the original gig workers? Who are they? Translators!
I conducted an Original Gig Worker Survey. Translators talked to me and I listened!
You'd be surprised.
Why are translators the original gig workers? They have been interpreting  communications for a long, long time. Some say they got their start in the Babylonian Empire, third century B.C.
Mini iPads have replaced scrolls and stone tablets, but the demand for skilled translators is exploding, to the tune of  37-billion-dollars-a-year global industry. Translators told me in my Original Gig Worker Survey how they compete–and thrive–in the global marketplace by zeroing in on their  Unique Value Proposition.
Translators told me why they love their gigs, relish working in their home offices, what their favorite podcasts are, gave the scoop on global pay scales, and even told me about the music they listen to when they work.
Look below to learn more about what they have to say.
I conducted an original 2018 Gig Worker Survey –Translators, Talk to Me! — to learn from translators living around the world.  As far as I can tell, this is first time anyone has surveyed translators as a sector of the gig economy.
The survey results present a fascinating snapshot.
About 44 percent of those who responded to my Gig Worker Survey call themselves "solo-preneurs" and 45 percent say they are "freelancers".  That's a lot of people flying solo.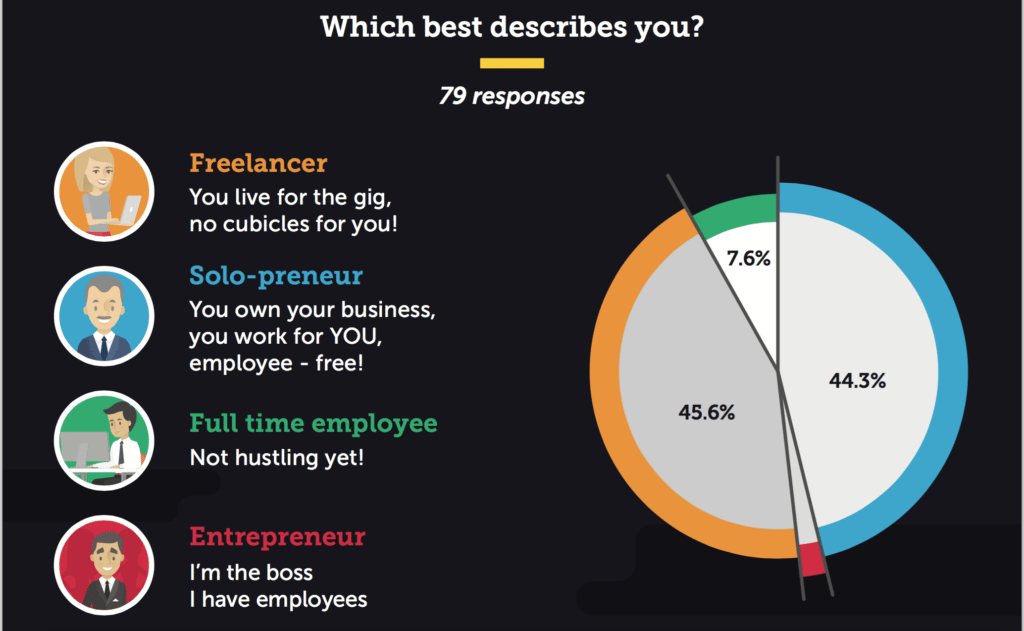 Translators are a highly successful group of gig workers.  These global wordsmiths have many traits in common, despite their diverse skills and specializations.
Translators are proud solo workers and tend not partner or team up with anyone else.

Professional development is a priority but translators don't network at traditional conferences and in-person events. They hang out at translators cafe, Proz and other sites like The Daily News.
Some even wear pajamas when they work!
Meet Eileen: Successful Translator in the Gig Economy
Ciao Eileen!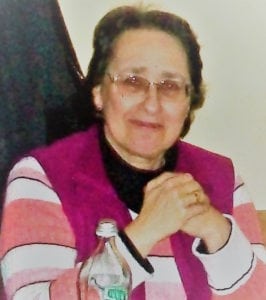 When Eileen Cartoon moved to Italy she married an Italian, but she didn't speak Italian well. Yet she built a thriving business as a translator of technical documents. She has been living and translating in Italy since the late 1970s.  
Eileen is so comfortable working at home she says,"I prefer the comfort of my pajamas when translating scientific documents."
Eileen was a teacher when she discovered translating–it offers flexible hours and better pay!
"What does a native speaker of English do? Teach. . . .I started teaching but I am not a linguist," she explains, "In fact, I chose to get a Bachelor of Science degree and not a Bachelor of Arts specifically to AVOID the language requirement. I hated languages but I love communicating (and I have a theory about that)."
Eileen gave up teaching for the perks of the gig economy: flexible schedule, work at home, and great pay.
"It was a small hop from teaching technical subjects to translating scientific and technical texts. I found that, whereas with teaching you are out 2 hours to do 1 hour of work, with translating 2 hours is 2 hours. I found I could earn more money. Then I adopted a daughter and it was much better to work from home."
Many of us are gig workers with families. Eileen can relate.
She really loves the fact that she has been able to raise her daughter while working as a translator. "I was able to work odd hours to be with her," she says, "Now, I enjoy the fact that I have time to do things around the house like the laundry!"
Being a gig worker also means Eileen has more time to listen to her favorite podcast, "Signs & Symptoms of Translation"–and she has so much work now that she turns down gigs!
"At first, my comprehension of the Italian was a bit shaky but it steadily grew and now, if I had 48 hours a day to work, I would have work to fill all those hours. I hate to say 'No'– but now I have to sometimes!"
We Asked Translators. . .

Translators answered! Here is what they have to say:
Eileen is never bored. . . She says, "One of the things I like best about freelance translating is that each job is different so I never get bored. That's a real plus. I'm always learning and at my age that, too, is a plus!"
I found when conducting my Gig Worker Survey that the translators who responded agree with Eileen. They love their lifestyle, their gigs, and working from home. A few shared what they love about their gigs:
"The possibility to organize my time as I wish and have more time with my daughter."

"I like being my own boss and managing my life the way that I want."

"Translating is the only way I could possibly be here for our 10- and 2-year-old children without throwing the financial burden on my hardworking wife.  Also, my backyard is pretty epic."

"Freedom to schedule work."
Do Translators Call Themselves Gig Workers?
Not really.
More than half of the translators who responded to my Gig Worker Survey consider themselves  "freelancers" or "solo-preneurs".  Only about 10 percent work on teams.
Translators prefer to work solo.
Like many translators, Eileen calls herself  a "freelancer". She runs her business on her own, and never partners with other freelance translators. She is successful flying solo.
You may recall, I mentioned that the 2018 Original Gig Worker Survey results reveal that a majority of translators prefer to work solo rather than partner and network to market their services. And most do not seek in-person networking and marketing events.
When it comes to professional development, Eileen reaches out more than most translators. She seeks out networking events and information on the gig economy and marketing trends "as much as possible."
With good reason.
I found in my Gig Worker Survey that translators have to keep pace with changes in business and media platforms, publishing, and communications. This is one area where the majority of translators may want to look to the community, rather than always tackling every change themselves.
How Do Translators Compete In The Gig Economy?
The world has become a much smaller place in the digital era, and now companies need to translate their  UVP – Unique Value Proposition into multiple languages–on multiple media platforms–to compete on the global market.
Translators use their bi-  or tri- or multi-linguality from the comfort of their personal workspace  by offering specialized niche services.  Some are industry experts; all are linguists. Some are adept at document transcription, others at voice-over technology, subtitling, SEO and web publishing.
As the original gig workers, how do translators keep abreast of the all these changes in communications and stay competitive?
Stay Tuned.
In my next ChunkofChange blog I'll share more insider tips from our 2018 Original Gig Worker Survey featuring translators from around the world–tips that you can use to make more money!
You can thrive in the gig economy!
Get started in the gig economy with a few of the resources here  and here.
I'll be with you all the way!
Oh! And I'd be honored if picked up a copy of The Gig Is Up today!