Have you hugged a translator today? Among other great qualities, they make it so you don't offend the shopkeeper in a foreign land.
Translators are the original gig workers.
Translators were thriving solo-preneurs long before anyone was talking about the gig economy, gig workers and virtual freelancing.
I discovered some amazing factoids about translators –all from my exclusive Original Gig Worker Survey.
Now I want to let you in on some insider tips about these original gig workers. Seven to be exact. . . 
Adapt and compete
Go for it! Independence and freedom

Promote your UVP

Embrace a flexible lifestyle

Maximize pay scales around the world

Be mobile savvy

Choose your niche
I surveyed translators because they have a lot to teach us about surviving as gig workers in the gig economy.  Translators have the skills and expertise to compete and thrive, even in tough situations.  
Think about it.
Translators face geographic and cultural challenges.  What's it like to work in the midst of civil unrest, in a war-torn country?  
Translators must compete with technologies that can replace humans.  How would you promote your Unique Value Proposition when up against new technologies that compete with human translation services?
How Do Translators Compete In The Gig Economy?
Translators are in demand around the world.  
The world has become a much smaller place in the digital era, and now companies need to translate their UVP  into multiple languages –on multiple media platforms–to compete on the global market.  
The United States is the largest single market for translation services and Europe is a close second, with Asia showing the largest growth.
Translators work around the world from the comfort of their personal workspace  by offering specialized niche services–in addition to their fluency in several languages. These include  deep industry knowledge and skill with translation technologies.
Some translators are skilled at document transcription, others at voice-over technology, subtitling, SEO and web publishing.  
Translators must promote their UVP to meet the demand for their services across multiple media platforms.
In other words, translating is a competitive gig.
Translators are independent gig workers! Here's how they describe themselves: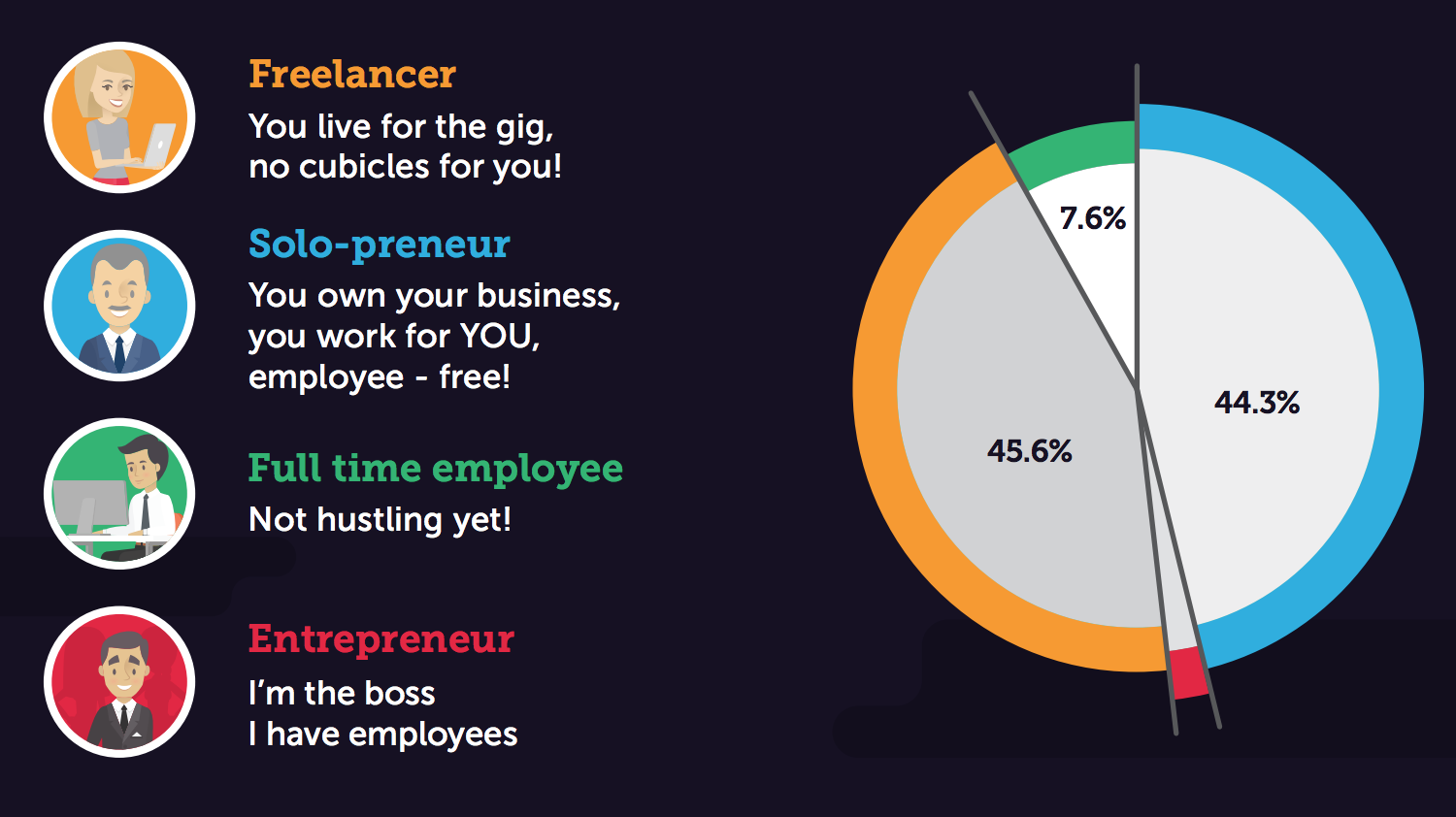 What Can Gig Workers Learn From Translators?
Adapt And Compete  
"Translation" once only involved interpreting or translating from one language to another. Now it can also mean translating text for an audience without being proficient in the other language. Think of writing services focused on creating the perfect, nuanced "tone". For example, a friend of mine, William, freelanced as a translator for a company in the U.K. for years; although he knew zero German, he worked with corporations in Germany to refine the English voice of their publications for American investors. 
Who are translators?  
You'd be surprised.  I reached out and conducted an exclusive Original Gig Worker Survey of translators around the world. They are a spirited bunch. A competitive, successful group of gig workers.
I heard from translators next door and across the ocean.
Gig Work Means Independence and Freedom. And Music.
What is the best thing about being a translator?
"No boss, no office, loud music while I work, all I need is an Internet connection and my PC and I can work anywhere, " says "gigliobass", one  of our translators.
Music makes some translators productive. In fact, having control over your work environment is good for productivity.
Imagine.
As a gig worker you can create a work environment  that makes you your competitive best.  Some translators thrive when music is playing. Others, like Eileen Cartoon, who lives in Italy, are productive in their PJs.  
"One of my favorite perks about freelancing is working in my pajamas," says Eileen, " I spend a lot less money on clothes than I used to."
She told us how happy she was  "to work odd hours when raising my daughter and now I have time to do things like the laundry." Many translators are happy knowing they can see more of their kids and multi-task a few household chores.  
What's Your UVP? Be Punctual And Precise.
What makes you thrive at your gig?
Translators face unusual challenges –like working in war-torn regions –and have amazing opportunities as gig workers.  
What lessons in survival can we learn from translators?  
Listen to Eileen. . .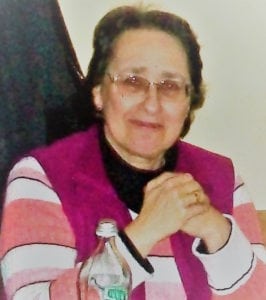 "The key to my success is punctuality and precision. One thing is certain, I may or may not be the greatest in my sector but I ALWAYS delivery on time or even early and thus project managers have learned to count on this. I am certain that they feel that their back is covered when I take a job. Many have told me horror stories about translators not delivering on time and not even answering their calls."
Eileen's speciality niche is scientific and technical translations; her native tongue is American English. Clearly Eileen's UVP  is punctuality and precision.
Eileen started out as a teacher and made the jump to translation for a better schedule, work at home –and better pay!  When Eileen started translating some 40 years ago she had moved to Italy and married an Italian. She didn't speak Italian very well.
But she understood the importance of her UVP.  Even though her Italian was not what it is today, Eileen promoted her expertise–first developed as a teacher– with scientific and technical subjects.
Embrace A Flexible, Independent Lifestyle.  
Translators prefer to work solo rather than partner and network to market their services.  About 44 percent of those surveyed call themselves "solo-preneurs" and 45 percent say they are "freelancers".  
What do translators love about their gig?  
Independence and freedom. 
Here's what translators told me. . .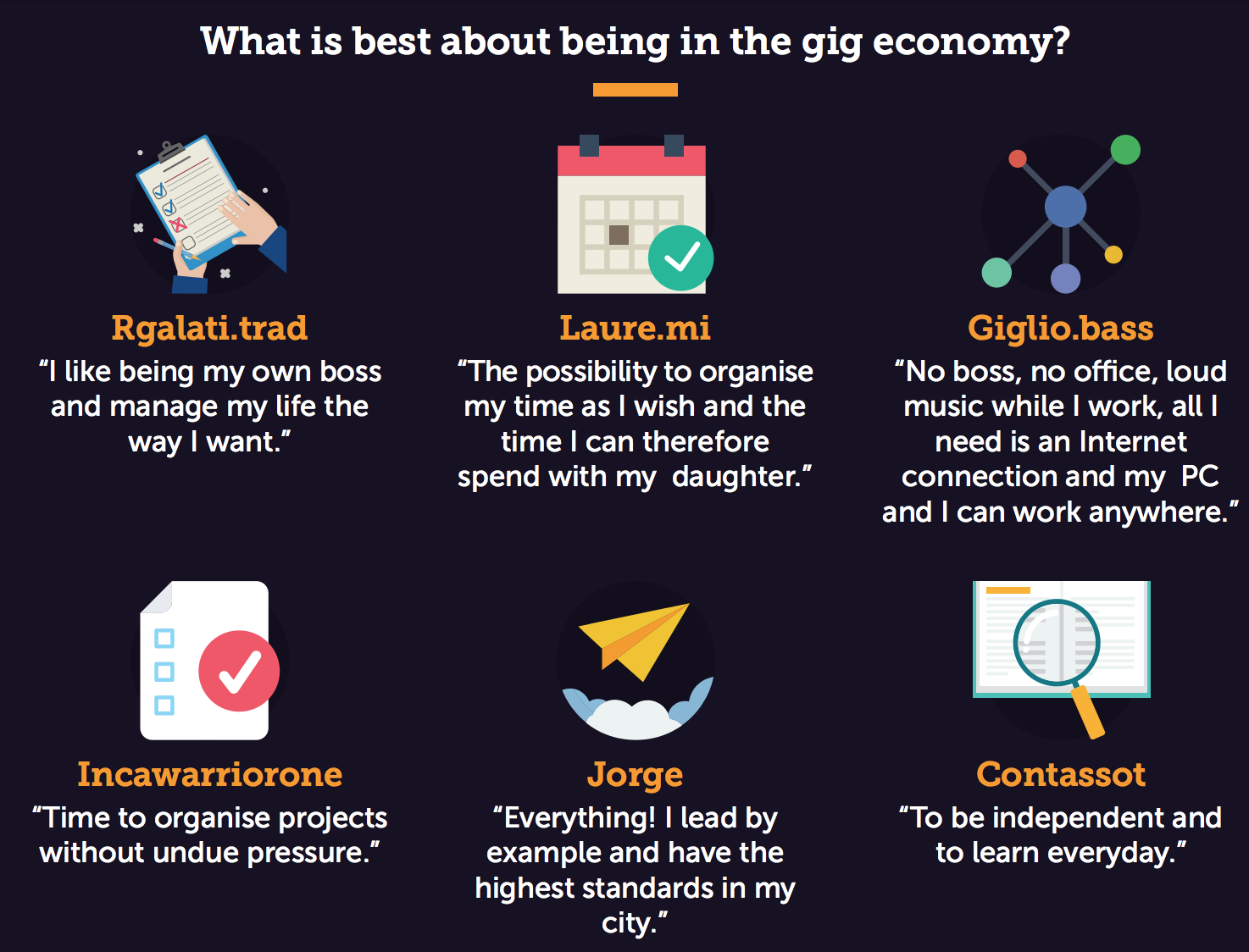 Translators talked to me and I listened!  
Here's what translators love about their gig:
"The independence, the non-stop learning process, being my own boss, listening (or not) to music while I work. . ."  –Elena Carbonell.

"Freedom to work from anywhere in the world and have my payments in any ATM worldwide."   –"backupdiego"

"The freedom to choose, the variety of the work, the hours, the ability to travel, the resilience: if one client goes, there's more out there."   –"noneedtoknow"
Some translators are so sophisticated at navigating the gig economy they travel as digital nomads, able to work anywhere with a fast and reliable Internet connection –while earning money and keeping clients happy.   
"In the last 12 years, I have worked (with WiFI) from 27 different countries," says one of our translators, an expert in portuguese translations.  
Translators cherish their ability to be in control of their businesses, relocate as needed, and tap into new markets as needed.  
Amauri, a translator from Brazil, values "the freedom to choose where and with whom you are going to work. . . the choices are to the benefit of you, not others…"
Still others are happy to stay home, quiet and safe, content to avoid the political unrest that plagues their country as they help businesses with multilingual SEO and web content.
Global Gig Trend Alert! Benefit From Different Pay Scales And Economies.
A translator may earn at a higher rate than is typical for their locale.  
Eileen says she misses out on this opportunity because she has the jitters about getting paid.  
"I fundamentally work on the Italian market so my rates are basically the same. I've heard such horror stories about being able to collect from foreign companies that I have not sought much work abroad!"
Translator Manuel Enriquez Fernandez  takes a different view. He makes it profitable. Here's what he told us:   
"The best thing about freelancing is the ability to charge the going fees/rates at the client's base location. This allows me to overcome local salary/rates barriers, and offers access to larger amounts of money. Of course, a close second is that you're able to escape any adverse local economic trends. As long as you have Internet available, you can earn."
If you are a gig worker you can use this strategy too!
Think and market outside the box.  Think and market outside your time zone and geographic region.  
If you live in a region that is economically depressed for your industry, seeking gigs in larger, thriving market centers, such as New York City and Hong Kong, where your skills are demand may yield more clients and more income.  
Research where your industry hotspots are and you will discover how much clients will pay when your skills are in demand.  Of course, there will be more competition–the gig economy is competitive! And even more reason to sharpen your  UVP.  
Be Savvy to Mobile Optimization
.
Translators are tech savvy.
There is an explosion of mobile devices used for communications and marketing. According to the International Data Corporation, 3.2 billion people will have Internet access this year, and more than 2 billion of these Internet users will use a mobile device. Therefore, you must consider display on mobile devices and tablets.
What other trends are shaping the demand for translator services?
The world is shrinking as technologies connect us. Translator services are in demand. Consider Argo Translation's trends  that will positively affect the industry.
Research from the Common Sense Advisory found that " a full 63% of global brands recently reached more customers by increasing the number of languages on their websites…[but] 37% of the leading brands still haven't gotten the memo." Companies that take their foreign-language customers seriously and make an effort to provide content for them in their native languages will be awarded with a tremendous opportunity to push ahead of the competition.
Multilingual web content, SEO, voice-over technologies –all of these are of strategic importance.
Successful translators must navigate this changing landscape.
Choose Your Niche
As gig workers translators offer unique and valuable skills and expertise. Maybe you thought being fluent in a  language and translating it is enough of a niche, but that is not a specialty, exactly.
The most successful translators know they need to dig deeper and bring their understanding of a specific industry or types of docs to the table. They need to know their client, their client's audience(s), their client's language(s).  
Examples include:
Legal docs, scientific docs, marketing docs. . .
And multi-media platforms . . . web sites, podcasts, the use of voice-over technologies. . .
Globalization and immigration have provided a steady and growing source of work for the industry. Although this increase in demand has led to the advent of translation software and machines, humans still provide the best translation services and beat the machines every time.
Translating web content, marketing copy, even your UVP,  isn't a simple word-for-word translation, there are subtle nuances to language and regional dialects that must be translated as well. This requires insight and judgement.
Translators are the original gig workers.  My Original Gig Worker Survey shows us why they have survived and how they compete.
Translators can teach us the  the skills and expertise to compete and thrive, even in tough situations.
You can thrive in the gig economy!
Get started in the gig economy with a few of the resources here  and here.
I'll be with you all the way!
Oh! And I'd be honored if picked up a copy of The Gig Is Up today!