I just got back from being the closing speaker at the Center for Association Leadership, ASAE's Executive Leadership Forum in gorgeous Edmonton, Alberta, Canada. The hot topic: Talent Acquisition and Retention. I surprised them by cobbling together this quick video about the "ELFs" and some of their comments on the leadership conference:
Unemployment At Lowest Point in Two Decades.
According to a survey of 2017 Inc. 500 companies the biggest challenge small and mid-size businesses face is finding and hiring talent. How can you attract and hire the best on-demand talent, including freelancers? First, you need to understand why this is a smart business move.
Why Should You Recruit Freelancers To Staff Your Teams?
The gig economy is shaping the future of your business, my business –all businesses!
The World Economic Summit calls this seismic shift "The Fourth Industrial Revolution".  
A recent Upwork and Freelancers Union report "Freelancing in America: 2017" explains this shift:
The freelance workforce grew at a rate 3 times faster that the U.S. workforce overall since 2014.

At its current growth rate, the majority of the U.S. workforce will be freelancers by 2027.

54 percent of workers (freelance and non-freelance) in the U.S. are not confident that the work they do will exist in 20 years.

Younger generations are driving the acceleration (47 percent of working Millennials freelance)  
By the way, boomers are also on board. About 31 percent of workers who only work in the gig economy are baby boomers.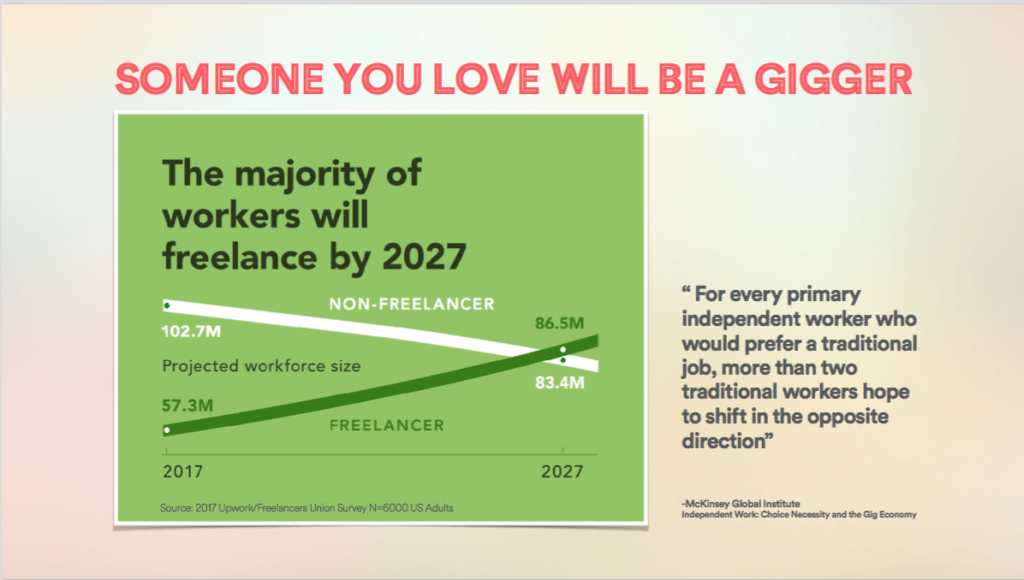 Upwork and Freelancers Union commissioned Edelman Intelligence, an independent research firm, for this fourth annual survey of the independent workforce in the U.S. "Freelancing in America" is based on a survey of 6,000 adult freelance and non-freelance workers.  It analyzes the growing freelance economy and the major role freelancers and gig workers play in the future of work.
As a leader, decision-maker, and CEO you are looking at a whole new world of work–shaped by freelancers.  
What does this mean for staffing?  Attracting the right talent for your teams?
I know what it's like to recruit and lead teams of talented freelancers–often called gig workers– and get results.
Where do you start?  First, let's just all agree: start with human dignity. No adult should ever need a chaperone to use the bathroom. Freelancers are not less-than.
Embrace The Opportunity
The gig economy is a growing exponentially. We are about a decade away from freelancers becoming a majority of our workforce, according to the "Freelancing in America" report.
This workplace shift offers a tremendous opportunity to boost productivity.  As a leader you can recruit from a growing pool of competitive on-demand talent to get the results you need.
Freelancers have radically changed the concept of the workplace.
Contrary to popular belief, the gig economy is not only dominated by Millennials. In the U.S. the average age of digitally-enabled independent workers is about 40. Boomers who are freelancers are a growing segment and Millennials are less than one-quarter of freelancers.
Who Are Freelancers?   
Freelancers are a lot like traditional workers.  Did I mention they use restrooms 😉 These independent earners come in all ages, education levels, incomes, and occupations. Freelancers are seasoned professionals with competitive skills and experience.
"Freelancing  in America" reports that gig working freelancers and non-freelancers in the traditional workforce share the exact same concerns:
Affordable Health Care

Debt

Ability to Save
It's no longer a secure position at a traditional job that trumps the insecure freelance path. Basically, both paths now are fraught with insecurity. Freelancers take control of their own security when they diversify and continue to educate their skill set, compared to traditional workers who tend to stagnate in their continuing education.
How Are Freelancers Different?
Freelancers update their job skills more often than non-freelancers (65 percent compared to 45 percent of non-freelancers).
Freelancers compete on a daily basis with an increasing pool of independent workers. They promote their Unique Value Proposition–UVP–and provide professionalism, diverse skills, niche specializations, and responsiveness that goes beyond expectations.  In other words, gig workers deliver.
Freelancers are engaged in a wide range of mainstream industries–not just Uber and AirBnB — they work as temporary workers, contract workers, consultants, freelance workers, entrepreneurs, and solo-preneurs.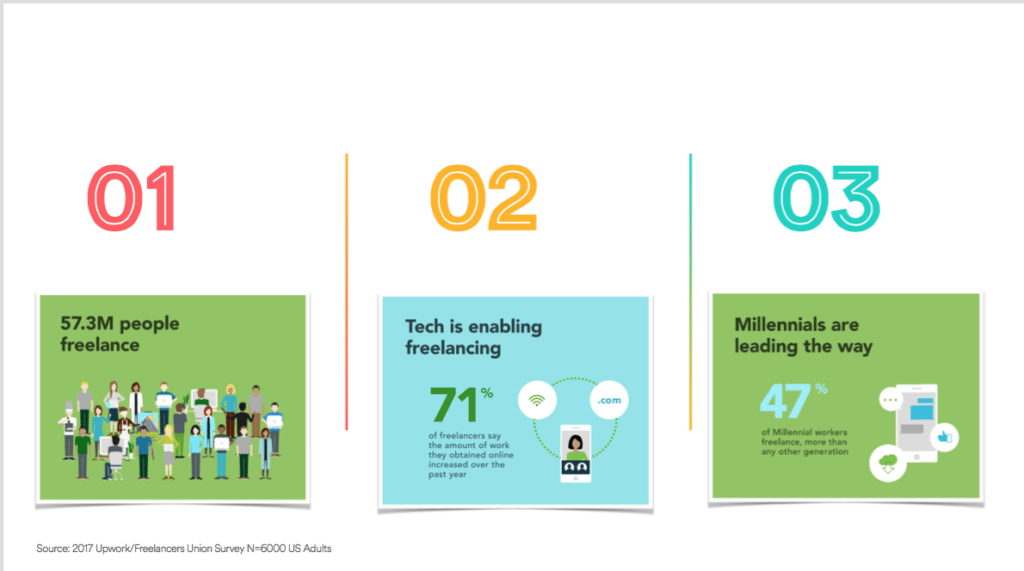 Look At The Facts. . .
. . .From McKinsey Global Institute's report "Independent Work: Choice, Necessity, and the Gig Economy":  
20 to 30 percent of the working-age population in the U.S. and the EU-15 engage in independent work;

The numbers are growing–every year;

For every gig worker there are two traditional workers hoping to shift to the gig economy;

The number of gig workers could grow from about 27 percent of the U.S. working-age population today to 30 to 50 percent in the future;
Clearly, the gig economy is here to stay.
What does this mean for you, a leader who seeks gig workers for your team?
. . .How do you snag the best freelancers?  What does it take to attract and retain the best freelancers?  
First, start with the basics.
Technology Makes It Easy
Freelancers are embracing technology. You should too.
You can find the best talent in professional, skilled freelancers  and gig workers from your smartphone.
Technology makes it easy. Technology is one of the driving forces fueling the growth of the gig economy.  Since 2008, the number of smartphone apps has exploded from zero into the thousands.
Today's gig workers are "digitally enabled" by having a computer in their pocket;

77 percent of Americans own smartphones –up from

35%

according to the Pew Research Center's first survey of smartphone ownership conducted in 2011;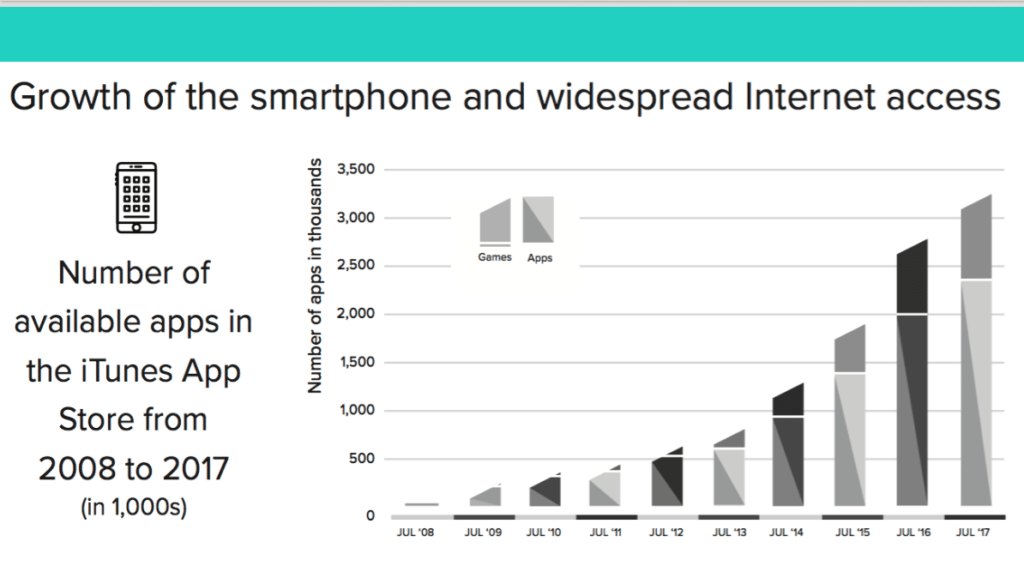 This makes it easy to reach freelancers 24/7.  You can use a wide range of mobile devices, apps, social media and other digital technologies to recruit gig workers, communicate with freelance giggers, share and track projects, and meet deadlines.   
Once you've built your talent team with gig workers you can engage them in virtual team-building and project management. Check-ins and interviews are easy thanks to Skype, Zoom, Facetime and other  "in-person" technologies for conversations, or as they are now known, Slack channels!
Whatever your management or communications needs as a team leader, there is a technology to help you meet your goals.
What Professions Attract Freelancers?
FlexJobs notes the top 10 industries for freelancers:
Computer & IT

Administrative

Accounting & Finance

Customer Service

Software Development

Medical & Health

Project Management

Research Analyst

Writing

Education & Training
Freelancers range from generalists with core administrative and management skills to specialists who deliver financial and technical reports. They are entry-level workers, managers, career-changers, pre-retirement workers, and more.  
Do the research. It's easy to find gig workers.  
You already know you can recruit on-demand talent by developing your own site for job announcements and seeking out established sites that cater to various industries.  
Check out WeWork, Upwork, Mashable, Flexjobs, WorkingNomads. . .YunoJuno even offers invoicing and contract support. Forbes gathered more than 70 sites.
Then discriminate the pool even further.  Look at reviews and target your advertising.
Target Your Advertising With Specifics
The best hiring practices for gig workers focus on specifics.
Here are three tips.
1.Focus on what you actually need accomplished–rather than a job title.
Instead of a traditional title of Publicity Director for Community Hospital for example, focus on the deliverables you need during a specific timeframe: available by phone during regular office hours for weekly meeting;  5 story pitches to media per week; research and expand media distribution list; knowledge of medical and health industry; etc.  Focus on:
Specific skills

Specific projects

Measurable deliverables

  
2.Include screening with a few hoops to jump through.
For instance, I ask potential candidates to include a specific phrase in their cover e-mails. It narrows the field to those who can follow directions. Include a few hoops that require:
Attention to detail,

Need for judgement

Unique directions
3.Narrow down the pool further:
Unique requirements

Special directions

Time-sensitive deadline

Skype/ Facetime conversations
Promote A Great Workplace For All
Once you know where  to look for freelancers and promote your job opportunities, promote your company's UVP as a great place to work.
Consider the newly minted criteria that Fortune uses to determine it's "Top 100 Companies.".
This year for the first time Fortune used a "For All" criteria that included factors that make a company a "great workplace for all".  They found that factors like diversity and inclusion are not just good for people –they are good business. They found that the "best" companies are a great workplace for all–and are more profitable–with revenue three times faster than their less-inclusive rivals. In other words, while trust fuels business performance at great workplaces, "For All" accelerates it.
When you create a great workplace for all you attract better talent and increase  productivity!
What makes a workplace great?  The rules are changing. It's not about bricks and mortar. . .
. . .It's about maximizing human potential. Fortune partnered with the Great Place to Work survey to look at how well companies create a consistently positive experience for all employees, no matter who they are or what they do for the organization.
Who topped the list?  Salesforce.com! Organizations scoring highest using new "For All" methodology grew their revenue about 10 percent faster over the same period than the companies that scored best according to  the former methodology, which simply measured average levels of Trust, Pride, and Camaraderie.
. . . It's about  diversity, inclusion, and a sense of belonging.  Gig workers want  these and a "great workplace for all"  just as much as traditional workers do.
What's Important To Freelancers?
Flexibility:

 Gig workers value flexibility over a traditional work structure and water-cooler chats, and pride themselves on delivering timely results.

Independence:

 Hands -off!  You cannot micromanage gig workers. They are competent professionals and

work independently to get the job done

; this makes for leaders who become better managers.

Recognition:

  Make it clear that you are recruiting freelancers for a team, that they will be  included on updates and given the option to participate in team meetings.

Resources & Training:

 Freelancers are attracted to jobs that offer resources, skills development and tools to enhance their productivity.  Gig workers want to maintain their competitive edge and you can help them. They are results oriented.

Drop the Title:

  Freelancers promote their UVP  with a focus on professional skills –not titles. They are less interested in titles and internal corporate-ladder climbing. Gig workers thrive by getting results, managing projects–even managing teams in some industries –and working independently.  
Attract freelancers with specific deliverables, competitive pay, flexible contracts –and hands-off management. Emphasize these benefits when you recruit freelancers.
Be A Gig Talent Magnet
Not everyone can lead teams of on-demand talent, teams with gig workers.  But you can!
Promote your company's UVP.  Promote the fact that yours is a Great Workplace for All and that you are an awesome team leader –you value freelancers and welcome them virtually and on-site if they are  in town.
Why should someone choose to work with your company ? What makes your company stand out from the pack?  Communicate this to potential gig recruits.
Congratulations! You've hired your freelancers.
What's next? How do you lead them?
Check out my next blog on how to manage teams of freelancers. You can lead the tribe!
Get started in the gig economy with a few of the resources here and here.  
I'll be with you all the way!
Oh! And I'd be honored if picked up a copy of The Gig Is Up today!